This Sunday evening my son and I went to see
The Haunted Yard Presents Grim Tales
. On Friday and Saturdays nights they are open for their regular scary haunted attraction from 7pm to midnight. But on Sunday and Thursday nights, they are open from 6pm to 9pm for a lights on, scare-free family/kid night. We arrived at their
Middletown location (in the strip mall across from the Library and McDonalds in Middletown) just after 6pm.
They lead you through the Haunted Yard in groups, and we went through with a couple other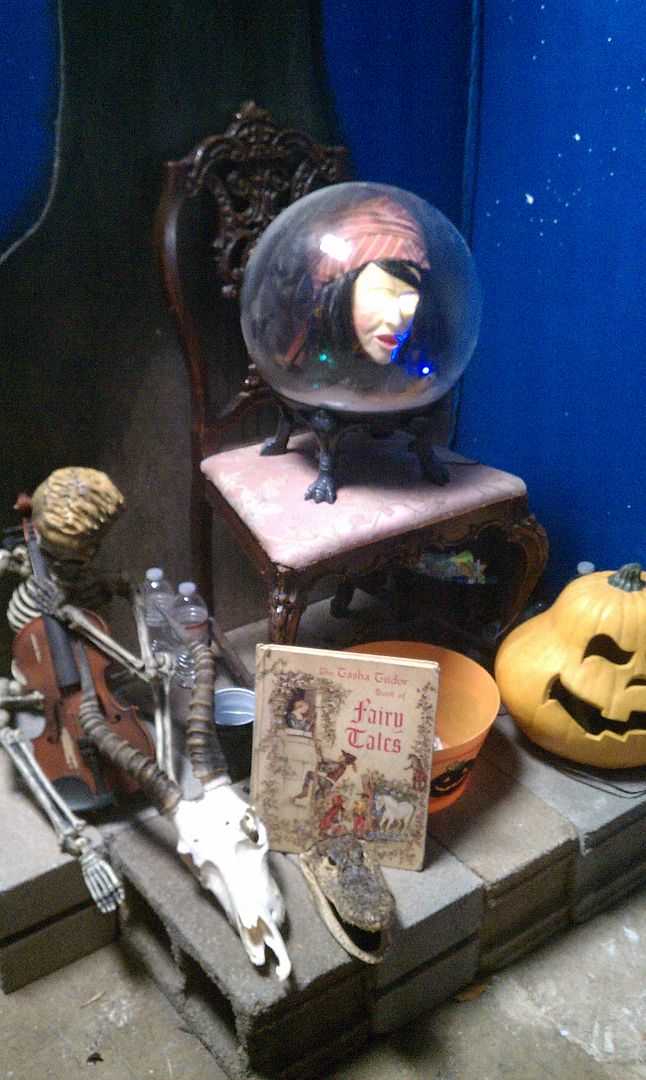 families. There were a couple of 4 year old boys and my 5 year old son ready with their trick or treat bags. The boys seemed nervous to enter the building after being greeted by a talking face at the door, but
were eager to go in and see more. As soon as you walk through the door, there is a talking fortune teller's head in a crystal ball and a big, scary, horned creature in the corner.
We were lead through several different rooms and passageways, most of which had a Brothers Grimm fairy tale feel to them with story book creatures and fairy tale themes. There were several scary costumes and props that younger children may be frightened of, but the three boys did well. There was a room that was snowing foam bubbles, a room with a pirate and hidden gold doubloons, and a room full of spiders including one giant spider that moved. The kids were given something for their trick or treat bag in most of the rooms, and were allowed to pan for gold and gems in the last room. There was spooky music playing, and it was very easy to see how scary it would be with the lights out, much less with actors jumping out at you in costume.
At the end of the tour, my son had collected seven items in his trick or treat bag, 5 gold doubloons (your amount varies by how quickly your child can find them, but the pirate was ready to hand out more if any of the kids couldn't find one), one bag of panned for "gems", and a certificate with the date on it that said, "I survived my first haunted house at Grim Tales."
As we were leaving, I overheard one of the boys asking to go through again, and another mother commented that she felt it was worth the $5 entrance fee (only kids are charged on Sunday and Thursday nights with their adult in free). You can get a good deal for 3 admissions by clicking
HERE
. On a normal night, adults are $13 and kids under 10 are $5. The management does not recommended the scary nights for kids under the age of 10 due to the fear factor.
By guest writer:
Caryn