Recently, I tried
Salsaritas Fresh Cantina
in St. Matthews and wrote a review, you can read it
here
. I just loved it and thought, wouldn't it be fun to bring that delicious food to one of my readers!
Salsaritas
is not only going to give YOU a meal, but they are going to give you enough for a PARTY! There's this little game coming up called the Super Bowl and there's these basketball teams around here that will be participating in some MARCH MADNESS and wouldn't it be nice to have a catered party for the big games?!?!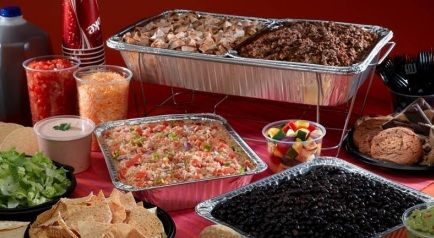 Bring your appetite and Salsarita's will bring the REST!
With hot food, cool toppings and complete serviceware…
Salsaritas
supplies everything you need to make them SAY "WOW" at your next business meeting, social gathering or family get together.
Prepared with only the freshest ingredients!
The winner will get a to redeem for your Party from
Salsaritas
and LOUISVILLE FAMILY FUN!!
(Redemption value: Party of 15)
Louisville Family Fun Pass Holders can send a photo of their Fun Pass to
bonus@louisvillefamilyfun.net
with the subject SALARITAS for 3 bonus entries! Send it before the contest closes!
CONTEST CLOSED!
Stephanie