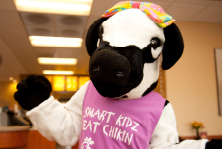 When asked, so many of you expressed that
Chick-fil-A
is one of your "go-to" family places to dine. We have a fun and unique prize for you! Chick-fil-A does not typically offer birthday parties, but for one of our lucky readers, they want to do something
special
. This prize is for a
birthday party
for your child at either the
Springhurst
or
St. Matthews
(across from mall) restaurants. 10 Kids will enjoy kids meals with the Chick-fil-A Cow and get a special area of the restaurant set up just for the party. As you know,
Chick-fil-A
is all about customer service, so they will take great care of you during the party to make it a wonderful celebration!

Your child can invite either Big COW or Little Girl or Boy COW and the party comes with 25 coupons for FREE Kids Meal to be given to party guests. It will be one they will never forget with a one hour visit from the Chick-fil-A COW!
Special instructions: The one hour party visit expires 12/31/2012 and needs to be scheduled on a Saturday between 2:30 and 4:30
Good Luck!