My kids and I decided to try out Austin's Restaurant which is on 42 in the Holiday Manor area. Austin's prides itself on cooking "Southern Contemporary Cuisine." We decided to try the Brunch which is served
every Saturday and Sunday.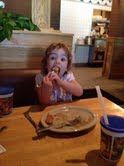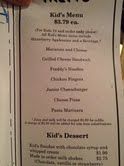 The hostesses greeted us nicely and gave my kids a picture to color that had the kids menu on it. Kids under 12 can hand in their colored picture to enter a monthly coloring contest with a chance to win a free kids meal. The brunch menu and regular menu looked like they had a great selection. They have everything from
salads, pasta, seafood, to grilled items. For brunch, we got the buttermilk pancakes, whole wheat French toast, and Belgian waffle with bacon, scrambled eggs, and a fruit cup as the sides.
We decided to share, and everything was delicious! My kids weren't thrilled with the "healthy" French toast, but they gobbled up everything else. I thought the whole wheat French toast was good, and I felt like I was eating healthier, but the Belgian waffle was definitely my favorite. The wait staff was very attentive, and no one seemed to mind my slightly loud children in the otherwise peaceful room. The prices seemed really reasonable - the 3 of us ate for less than $20. Austin's has a lunch special and dinner special every weeknight, and the brunches on the weekends. I definitely like to head back again and try some of the lunch or dinner menu. For more information, see their
website
.
By guest contributor:
Caryn