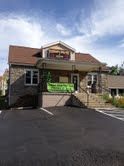 We recently went to
Texican's BBQ Pitt
for the first time. On our way in, one of the employees was walking out to add wood to the smoker that sits on the edge of the parking lot. My kids thought it was big excitement to watch him add the wood, and he told the kids about what he was doing and about the wonderful smell of cherry wood that adds such great flavor to their pork.
When we stepped inside, there was a counter with a menu overhead with options to order. I was debating between the pulled pork or the cherry ribs, so he offered a sample of the cherry ribs. It paid off, because the ribs and cherry sauce were so good, my husband and I both ordered the cherry rib meal. It was $9 for the ribs and 2 sides, plus we ordered a small fountain soda (the fountain machine is in the dinning room to allow for refills). I got potato salad and chips and my husband ordered the home style tators and cinnamon apples. The kids went with a hot dog and chips. Everything was absolutely delicious! We shared all of our sides because they were so good. I think the meal was pretty equivalent to a half rack of ribs, making it very reasonably priced (especially since we had a
Seize the Deal
voucher!)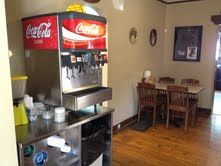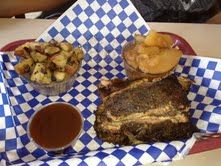 I did feel like I could have eaten more, but only because everything was so good, not because I needed it. However, I may be returning on a Thursday for all you can eat cherry rib dinner with 2 sides and a drink for only $13! Texican's BBQ Pitt also has 2 high chairs and 2 booster chairs available, as well as a large table outside on the porch for your louder kids :) There are 3 kids meal options (BBQ sandwich, ribs or chicken) and kids (under 12) eat free on Mondays with an adult meal purchase! Texican's BBQ Pitt also offers family sized packs and catering. Texican's was cozy, delicious, and well priced. We will definitely be going back!
By guest contributor:
Caryn