Photos and Video by Stephanie
Our trip to the
Kentucky State Fair
this year started with a chat with Freddy from the Farm Bureau, a walk through the South Wing to browse the exhibits and a stop at the
KET
table to take a picture with famous Curious George. Then, we headed to the west wing and found the cattle, goats, rabbits and more. We spent a long time walking these aisles and comparing animals. We also enjoyed the border collie show and some dinner under the country music tent. We ended our evening with rides in the thrillway where my kids took advantage of the $15 wristbands deal by riding as many thrills as they could! It was a fantastic evening with the family!
Stephanie
*~*~*~*~*~*~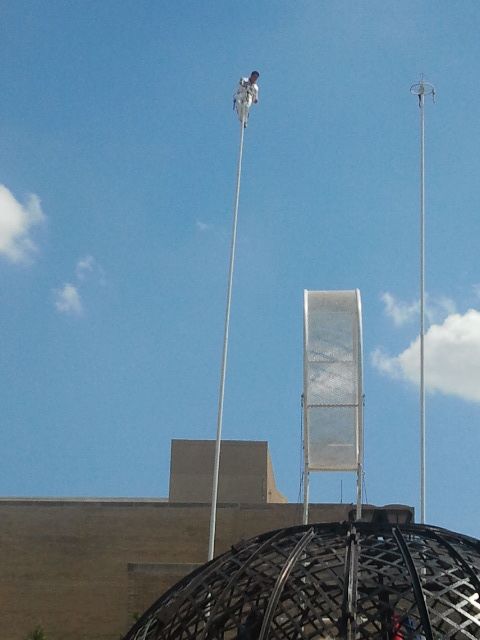 This year's experience at the
Kentucky State Fair
was one of the best in recent memory. For starters, it wasn't even 80 degrees when we arrived at noon, and it only climbed to 82 by the time we left a little after five. The first show we happened upon is fairly new to the Fair- Neverless Nocks All- American Stunt and Thrill Show. It opened with two men climbing poles and balancing atop without any safety harnesses or climbing equipment. What a thrill!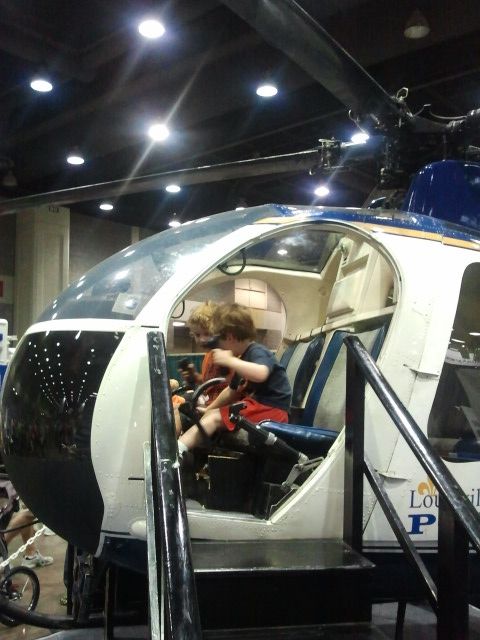 Throughout the day we saw the agricultural exhibits, visited the Kidz Biz Stage, watched Miller's Border Collies, and learned about safety at the Kentucky State Police's Safety Town. But three things really captured my kids' imaginations: making beeswax candles at the Bees and Honey exhibit, playing on the TARC bus, and watching the ladies spin yarn on their spinning wheels. Then we rounded the day out with a visit to the Thrillway and some cotton candy before we headed home. No matter what your interests, the Fair has something for everyone!
By guest contributor:
Maggie
*~*~*~*~*~*~
The weather was awesome this weekend, making it the perfect time to head to the
Kentucky State Fair
. Our children, ages 7 and 3, tend to gravitate towards the animals. We have seen about every animal related attraction in previous years. This year I decided to try something new and check out the shows. I know many of you probably have flashbacks of your parents making you wait around and sit through some terribly boring show at an amusement park or maybe even at a fair. My goal was not to scar my kids for life, so I selected three very energetic shows that I thought they would enjoy.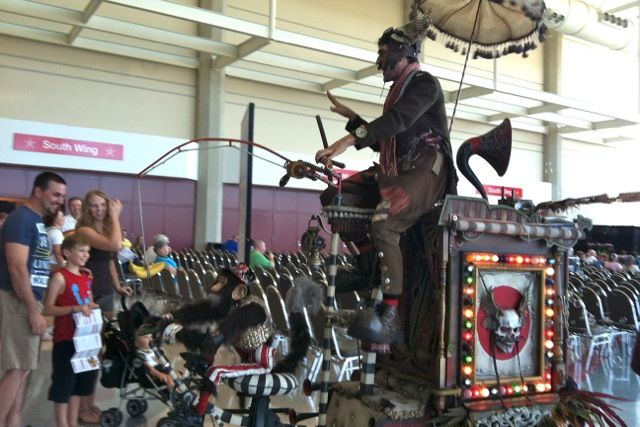 The first show turned out to be our favorite of all; Nerveless Nocks All-American Stunt and Thrill Show. This exciting performance contained many stunts that you'd expect to see at the circus. There was a very tall sway pole, a wire walking act, a large pendulum and giant a globe in which the performers rode motor bikes-- just to name a few. Most amazing of all, these stunts were performed outside over bare concrete. Wow! The whole family loved this show!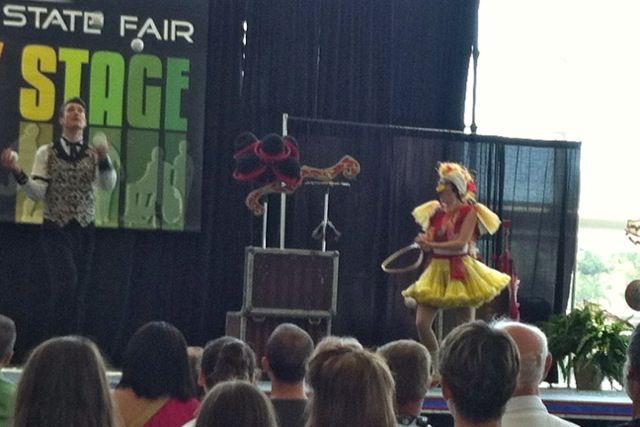 Later in the afternoon, we headed over to the South Wing Family Stage to see a vaudeville-style act, known as Handsome Little Devils. This humorous performance included several great balance and juggling tricks. The act included one "bad guy" who was there for added comedy. Though the performance was family friendly, my 7 yr old was kind of bothered by the bad guy and got nervous during those parts. On the other hand, my 3 yr old found the bad guy to be funny.
Before leaving the South Wing, we returned to the Family Stage to see the Zuma Zuma Acrobats. This troupe from Africa began their act by showing off their limbo skills and inviting children from the audience to join in. There were flips, handstands, juggling and dancing. It was a short, but very high energy performance that ended with another chance for children in the audience to take the stage.
We still spent plenty of time seeing the animals and other exhibits, but my children learned that the shows can be fun too. It's also a great way to give little legs some rest throughout the day!
By guest contributor:
Brandy