It's the start of the
Kentucky State Fair
where we converge upon the
Kentucky Expo Center
with and extra $8 in hand for parking and we celebrate all things Kentucky, especially the agriculture. Yes, you will enjoy aisles and aisles of swine, bunny, cattle and more but don't be fooled, you can also shop for a new tub in the vendor area, get a variety of free health screenings, check out Elvis on a unicycle and finish your day with some twirls on a carnival ride. It's random and it's awesome!
So, my Friday post for things to do this weekend is well,
GO TO THE FAIR
. There are other things on our very full web calendar (like
Pet Day
at the Creasey Mahan Nature Preserve or the
New Cut Rd Trolley Hop
), but with sunny skies and temps in the low 80s, I'm thinking this is going to be fair-going perfection!
Here's our first review of the fair, from the teen perspective, written by Chloe Gordon of PopCosmo.com
Heading to the
Kentucky State Fair
? Trying to decide if there's anything worth seeing, or if it's something best left to your little brother and sister? For our family, it's a yearly event and we love every deep-fried, southern-accented, carnival-filled minute of it!
First we head to the Thrillway for the rides, otherwise it would be a GloZell moment when we step on the rides after eating anything fried, extra-large, and coated in sugar. (If you don't GloZell, then google cinnamon challenge for a laugh).
We love how the carnival workers call at us when we walk by and we see who was the most creative in getting our attention, and if they could make us want to try their booth.
The newest "ride" was what we'll call the "hamster on water." If you weigh less than 160 lbs. you can get in an inflatable bubble and attempt to walk on water. There are easy bubbles and hard bubbles. We dare you to try the hard one! It's hysterical… and we'll leave it up to you if it's possible.
Second favorite is to try to stand the bottle up on the board with the fishing pole. Sounds SO simple, the guy makes it look so simple. Impossible. We've only ever seen him do it, which is why there are AMAZING prizes. Please somebody win and tweet us a photo
@popcosmo
of you winning. We need to see a winner! In fact, study this video of how to win so you go in prepared.
Other favorites: all the rides, the funhouse (because we expect to see the cast of Grease singing) the ladder (because it's also impossible) and toss anything to win something ridiculous.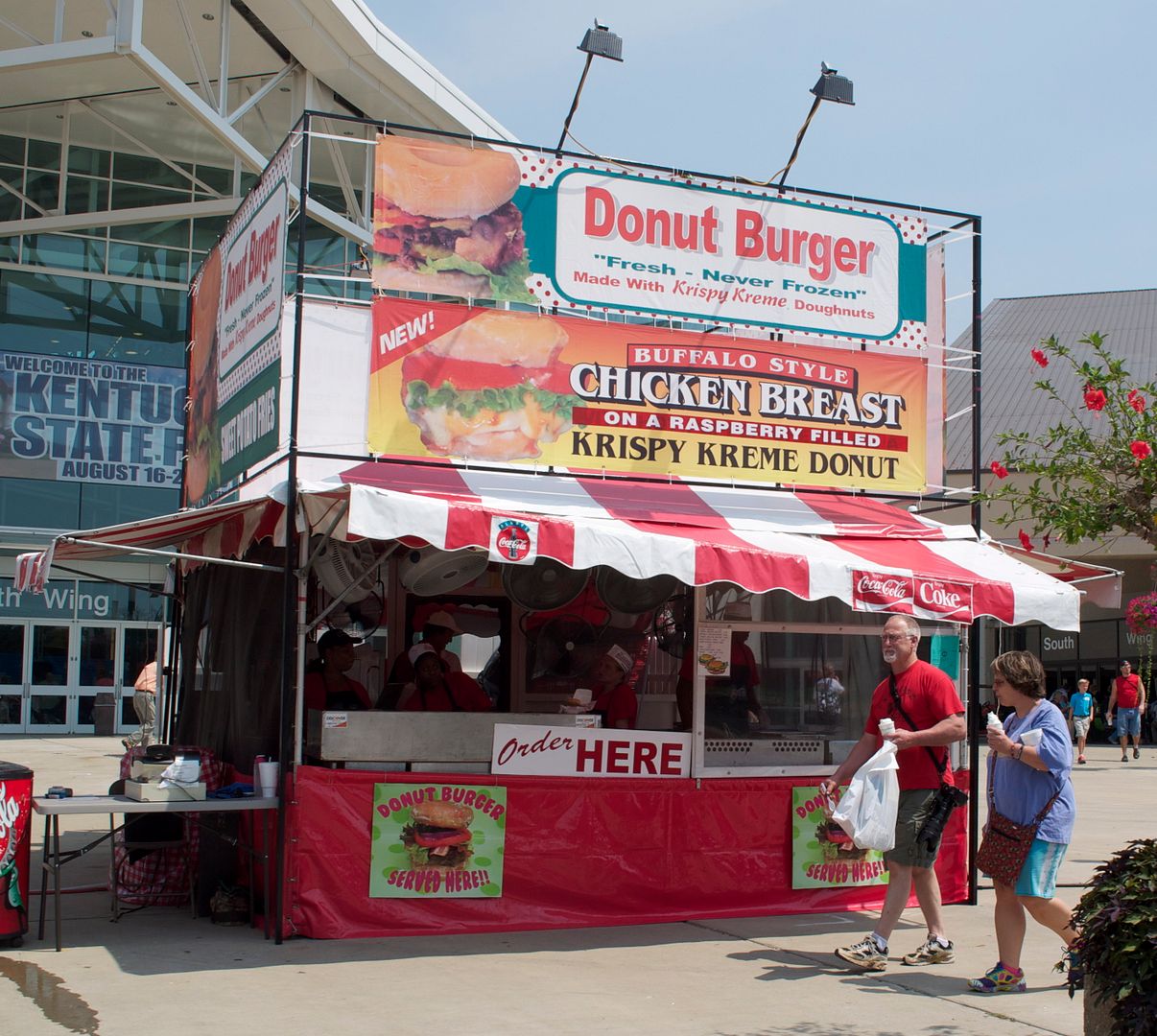 Now to the food. We are healthy. Really. But when it comes to fairs, forget it. Sugar rules. Krispy Kreme rules supreme, but these burgers look disgusting. Seriously?
Funnel Cakes and Cotton Candy are amazing, but it was waaayyy too hot to eat anything when we went, so we just had some tea at the Kentucky Proud booth. Amazing. Thirst-quenchingly good.
What we wished we had seen: the JUMP! Dog Challenge by Mike Linnig's Tent, BMX Pros Trick Team, the traveling strong woman, more of the inside exhibits. But, there's always next year for those.
What YOU can't miss: the bands at
YAP (The Young Adult Project)
This is amazing! The tent in the Thrillway will have fab bands the whole week, with one of our fave Louisville bands, Scarlet Smiles, opening tonight.
The whole schedule looks fantastic and is for everyone ages 14-20.
And finally, we are dying to see
Young the Giant
. He rocks. GLEE agreed and featured "Cough Syrup," but judge for yourself and tweet us pics!
So, should you go to the Kentucky State Fair this year? Um, don't take our word for it. Juggling Elvis on a unicycle said, "Come on!"
Thanks Chloe
- Check out
PopCosmo.com
for great teen trends!