Recently, I took my 4 kiddos (ages 2,3,7,9) to
Farnsley-Moreman Landing
. We had registered our group for a free event called Artifact Family Fun. Since my 3 year old bounces back and forth between wanting to be a Paleontologist and an archaeologist daily, I thought it would be a great opportunity to show him what a day in the life of an Archaeologist is like. That boy loves to dig, but what boy doesn't? We arrive right on time.
Directions on their website
were very easy and the location was well marked. I had wondered how popular this event would be, since the subject matter was a little advanced, but surprisingly the group was a great size with a variety of kids ages anywhere from 2-14.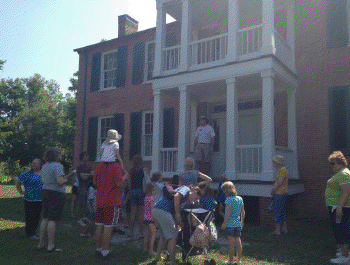 We gathered at the Visitor's Center and were introduced to our archaeologist for the day. There was a brief overview in the conference area with an introduction to the project they were currently working on. The Kentucky Archaeological Survey provided bags of top soil collected from the property's detached Kitchen Site. We then gathered under the shade in a nearby pavilion in front of tubs full of water and a sieve. The kids were instructed to dump their dirt and the discovery began. With toothbrushes we delicately exposed nails, pieces of glass, pottery and even teeth from the animals they had for dinner in the 1800's. That collection of items sounds dangerous for the tiny ones, but under direct supervision they were actually very cautious and safe to my relief. I think splashing in the water and getting messy trumped any interest of horse play.
The event concluded with a tour of the main house, which in all honesty was not exactly geared towards little ones. Standing in a room full of things that are off limits with a group of kids is not usually ideal. On the plus side, it was air conditioned. We quietly bowed out after checking out a couple of rooms. As we headed to the van I could tell the kids were pumped about our activity and it made for great conversation during our lunch that followed.
This riverside spot would make a beautiful place for a picnic. There are other activities for adults and children alike. You can find them on their
website
.
I have heard the re-enactments are fun as well. I look forward to checking that out at the 100 years on the Ohio.
By guest contributor:
Whitney