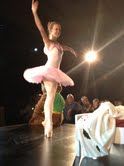 If you like Christmas music, live shows, and delicious food, then you'll LOVE the
Colors of the Season Holiday Dinner Show at the Galt House
. The evening begins before you even get to the show as you walk through the beautifully decorated
Galt House
. I suggest getting there early in time for the 5pm toy soldier routine in the lobby. Then, head up to the 3rd floor to visit Santa and snag a couple pictures with him (the visit is free and you can use your own camera to take pictures). If you still have time, I suggest you go sit in the Skywalk that spans the hotel over 4th Street. It has a bar, a 24 hour deli, free wi-fi, a bird atrium, elf photo cut-outs (there are photo cut-outs all over the hotel), and a beautiful view. You can see the Ohio River or the light show at
Fourth Street Live 40 Nights of Lights
which starts every night at 6pm.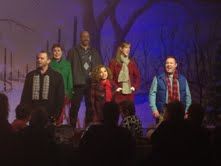 When you head up to the Colors banquet room, you hand in your ticket and are seated at a beautiful table. The show stars off with a wonderful medley of famous Kentucky musicians. Then your salad is served, followed by your entree, warm bread, and dessert (There is a vegetarian entree and children's alternative meal). The meal was DELICIOUS! I especially loved the eggnog Cheesecake. (You can purchase $7 glasses of wine or $30 bottles of wine during your meal). Following the meal, there is time for conversation, and the show continues. It's a wonderful production based on 6 main cast members telling a story mostly by Christmas songs. There are also two local children, 2 ballet dancers, as well as a cute dance scene with the ballerina, toy soldier, bear, and doll. The show ended with a 5 carol sing-a-long with the audience which was wonderful. It really puts you in the spirit of Christmas.
The entire show including dinner and music was about 2 hours long. I would recommend it for at least elementary school aged kids and up, however it is mostly music which may not appeal to some young kids. It would make a wonderful date night with time spent at the Skywalk following the show, or even a walk down to 4th Street Live afterwards. It would also make a great family night with Santa, the toy soldiers, and even a trip through
KaLightoscope
beforehand.The show runs through December 15th. Ticket prices are $36-$46 adults, $13-$20 kids 12 and under. Ticket pricing for Galt House activities
HERE
.
By guest contributor:
Caryn
Tip- 40 Nights of Lights on a weekend night is going to be busy with the bar scene at 4th Street Live. Earlier is better, or on a weeknight.