My family and I went to check out the recently reopened
Brownsboro Eatery
. We noticed this cute general store/eatery when we first moved to the area and were disappointed it had been closed for some time, so we were excited to read about it being brought back to life. The new owners spent months clearing out rubbish and meticulously cleaning every inch of this place, which is inside a barn style building built in the mid-1950s. More than just a restaurant, this eatery also features numerous antiques and memorabilia, as well as arts and crafts by local artists, and the conveniences of a corner store with their small but good selection of drinks, snacks, and the like.
When you walk in, you are greeted by a small area with a couple of benches and several toys, which is always a welcome sight when looking for family friendly places to eat. The menu is simple yet full of interesting items and just the right size to help you make a quick decision, another plus with young kids in tow! It is casual with seat-yourself dining.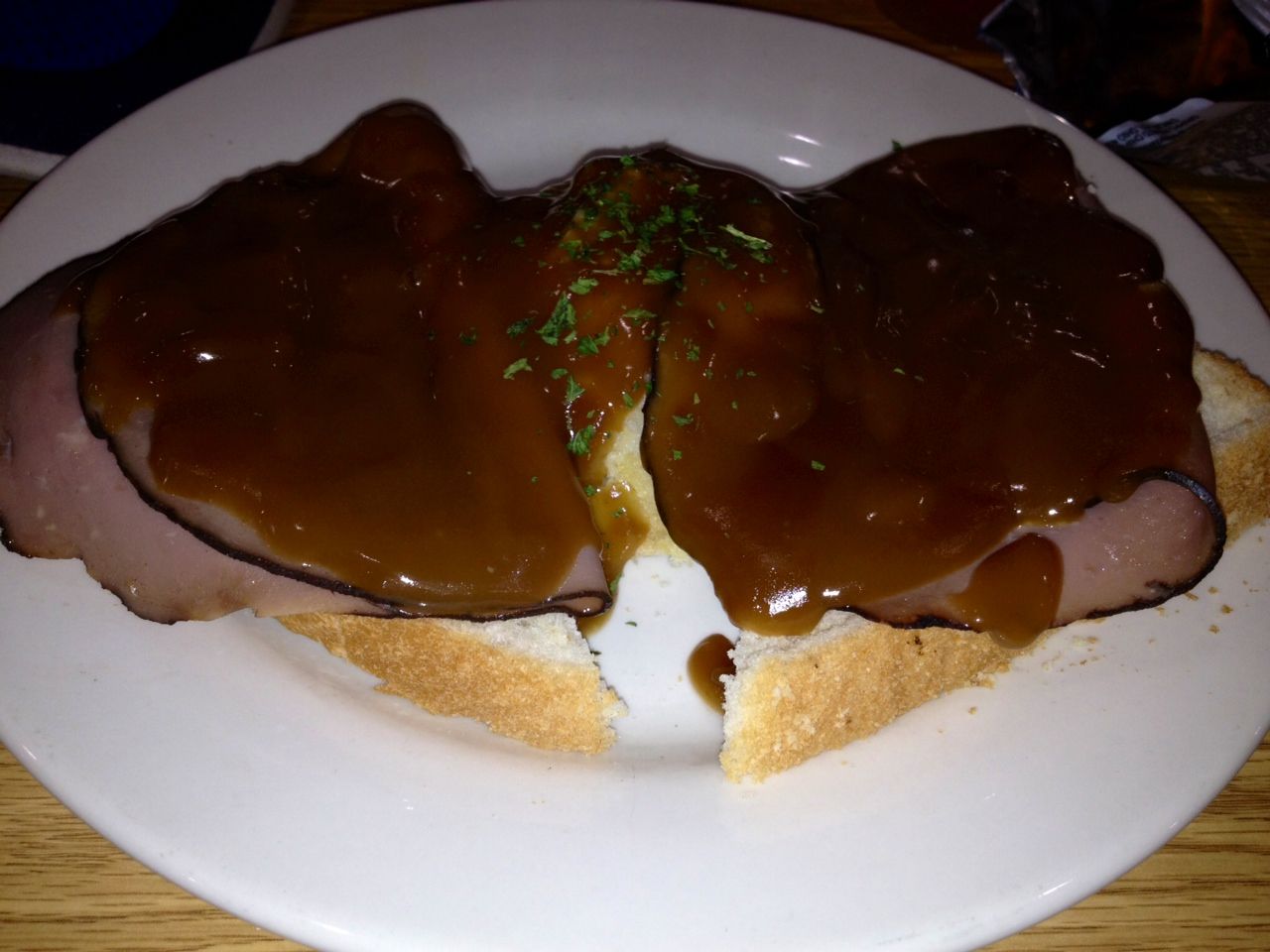 We enjoyed sandwiches off their lunch
menu
, which come with your choice of chips, fruit, or cottage cheese, for between $6.50 for the smaller ones like old-fashioned chicken salad and up to $9.50 for more filling hot open face choices. The Kid's Menu consists of four childhood favorites in appropriate portions and includes chips or fruit and a small drink. There were other choices, like soup or salad for lunch and all your typical selections for breakfasts, including eggs any way or omelets made to order, pancakes, biscuits & gravy, and bacon, sausage, ham, biscuit, or toast, all very reasonably priced and easy to customize with their simple pricing structure. Dinner, which is served only Thursday-Sunday when they stay open later, has some great options too, like pork tenderloin, salmon, bbq chicken, meatloaf, philly steak, pork chop, chicken breast, or a hot brown, with nothing more than $10.50 and a nice basic selection of sides and breads. Drinks are all just $1.50 each and include refills.
My husband really loved his Open Face Roast Beef Sandwich, my daughter devoured her Club Sub, my son ate every bite of his Grilled Cheese, which was made with Provolone, and I thoroughly enjoyed my Toasted Ham Sandwich, which was made on a great Ciabatta bread. In fact, we all dove in so fast that we only have photos of half a serving, with the exception of my husband who showed more restraint. We each tried Gripper's BBQ chips and found they have a great kick to them.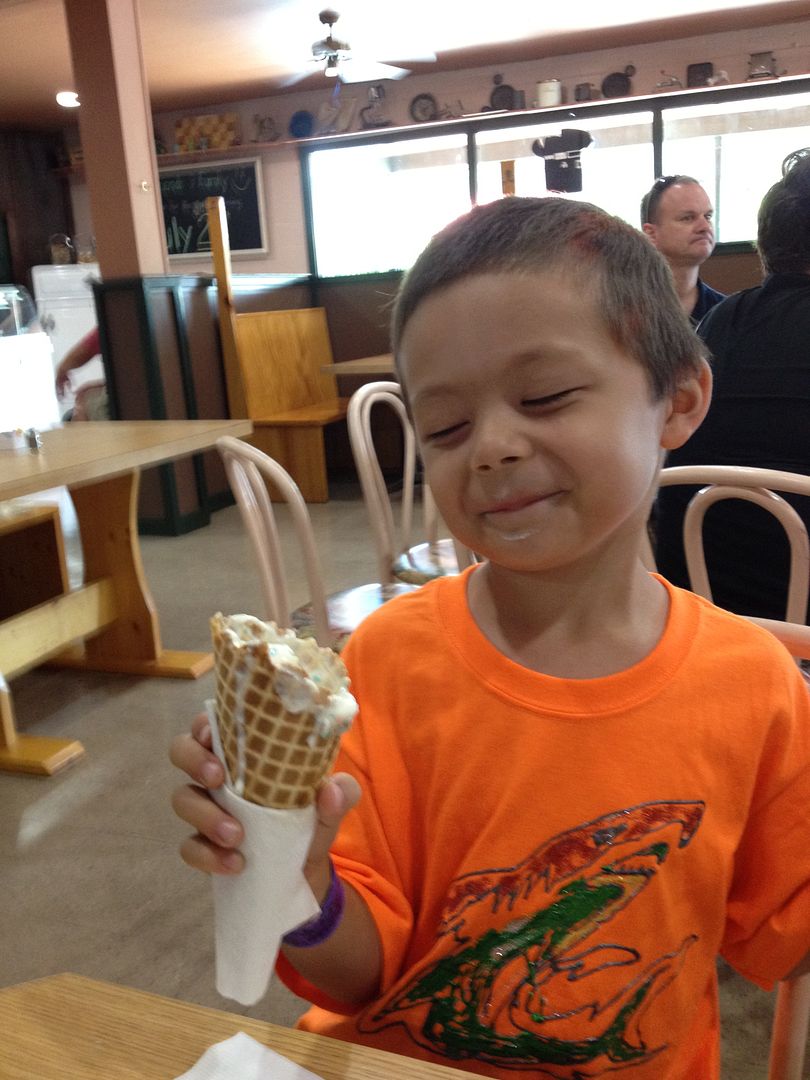 After smelling the wonderful aroma from the waffle cone maker, which are all made fresh, we just had to try some of their hand-dipped ice cream too. Cake cones are $1.50 each or $1.25 for a kid's scoop, but we splurged for the waffle cones, which are $2.50 for one scoop or $3.25 for two. It was indeed a delicious treat and we noticed we could try others, like milkshakes for $2.50, banana split for $4.50, a sundae for $2.25, or what I plan to try next time, a waffle bowl sundae for $3.25.
To get there, it is just a short drive out on 71 to Crestwood. Brownsboro Eatery is not far from the exit, but just enough to make you feel like you are out in the country some. They are located at 7511 Highway 329 in Crestwood, Kentucky. Don't go on a Monday though, as I saw on their
facebook page
. We will definitely be back to this fun, affordable, and different local eatery. There are so many things to look at, and we loved the quaint old-timey atmosphere and great food. Everyone working there was super friendly and polite and it felt very warm and welcoming. We read that their manager has "about a million concepts (he'd) like to try out," and look forward to whatever he comes up with next, although in our book, this place was just about picture perfect as it is.
By guest contributor:
Angela
From
Stephanie
: We pass this place all of the time to go to the YMCA in Buckner and we finally decided to stop and try it. My family dined there, with tip and leaving very full and happy, for under $20. My kids were able to get their favorite breakfast selections and my husband and I enjoyed homemade soup and fresh sandwiches. It was wonderful to have the little toy area near the entry because once the kids were finished, we let them play and we sat peacefully to finish our lunch. Also, I went back to get donuts on a Saturday morning. I had one at a local church one morning that came from their store and it was one of the best donuts I have had in a long time. And, they are so well priced at 50 cents per donut or $5.50 for a dozen! Get there early for the donuts, since it's a small local place, they sell out quickly if someone like me pops in to buy a bunch. I have a feeling this will be a family favorite.