My second child, a boy, is so different than my creative-soul 9 year-old daughter. Everything that everyone told me about having a boy was absolutely true. This little boy of mine: let's just say I have already dubbed him a gymnast, and I have high hopes for the Olympics some day! With him, I wanted to find some gymnastics experiences that are age appropriate. He is under two, and I know there are lots of options in Louisville for kids 2-3 and up. But since he is a monkey at heart at such an early age, I wanted to explore exactly what is out there for his age-range, 12 months-24 months. I tested out four options that are suitable.
My Gym
offers a free demo class so I signed up my tot to check them out. He falls in the age range of 14-23 months, so we attended a
Waddlers
class. This age group meets on Wednesdays and Thursdays at 9:15am. You can request a demo class, which is free. I like the option they give you to try the class before you commit to monthly fees. We had such a great time! I knew that my young toddler would probably really be into it, because of his obsession with climbing on everything he sees. If you're familiar with My Gym, it's a neat space as it's very open and spacious with lots of age appropriate climbing structures, balls all over the place, slides, and stairs and mats to climb up and over, a ball pit, etc. The class starts with just play time and free range of the gym, and then moves into a circle time in which the teacher sings a greeting song and the kids do some stretches. They work on a skill that they are practicing; at the class we attended it was doing hand stands. They moved into free range again, then Mr. Bill came out and they did two separate stations where the toddlers could work on jumping and doing a tumble, both assisted. Or, they could do a tumble on the rocking horse mat. They hooked up some neat swings from the ceiling and the toddlers each got a chance to swing, and could go back and forth between that activity and a bouncing activity on a mat down one of the slides. It was FUN! I enjoyed watching my little one get so excited at everything and the instructors were super with the kids. We had a blast, and I do think I'm going to sign my toddler up for classes now that I have had a chance to see what we would get out of it. The class lasted one hour. They offer 4 week sessions with 45 minute classes for $56 or 60 minute classes for $60 which includes 1 structured class and 1 free play per week. My Gym also hosts Parent's Night Out a couple of times a month. It is for children at least 16 months old through 8 years old; cost=$25 for 1st child, $10 for 2nd child, $5 per additional child.
My Gym Louisville is located at 11770 Shelbyville Road Suite 101 in Middletown. You can call (502) 614- 6001 for more info and to sign up for a demo class.
At
Sky Zone Louisville
, they began offering a Toddler Jump Time back at the end of November. It's a jumping time for toddlers only, ages 5 and under specifically. I finally got the chance to take my little boy, who is 17 months old, to this jump. I must admit I was a wee bit skeptical about this at first because of his age. He LOVED it! That is an understatement. And, momma loved it too! But beware: you will sweat. I had no idea how much of a workout that was going to be! (I made a note to NOT wear jeans and a sweater next time) I was pleasantly surprised as well to see a lot of moms and dads there with little ones around the same age as my son. Since he is under 2 years old, I thought he would be the youngest one there and would still get trampled or feel intimidated even by preschoolers. That was not the case and it helped me feel more comfortable with him there. He loved the balls! The staff had put out large colorful beach balls and some smaller basketballs and he just spent the entire time walking from one square to another trying to retrieve balls! He liked the feeling of swaying up and down but really doesn't have the concept down of jumping yet. I on the other hand jumped my heart out and it was so much fun! It's a great deal for this momma because with my little guy in tow, we can both jump for $8.00 (adults jump FREE.) I actually can't wait to go back with the rest of my family because my 9 year old daughter will love it, and my husband will love the basketball jumping pit! LouFamFun reviewed Sky Zone when it first opened; you can read that
here
. As stated there is a small snack area and we had to check out the restrooms while there and they were very clean and had a clean baby changing table – a plus for me. If you're looking for a fun way to pass an hour this winter, check this toddler time out. Toddler Jump time is every Friday, 11am-12pm.
Sky Zone Louisville is located at 2671 Technology Drive in Jeffersontown, 502-909-3500.
Kentucky Gymnastics Academy
has an Open Gym time for ages 1-5. I was led to check this place out when one of the LouFamFun writers highlighted it in the
$5 per kid post
. When I saw they have open gym and ages 1+, I had a desire to check KGA too. I checked them out during their Monday morning time slot; they have times each morning of the week which is very convenient. WOW! Was it fun, and for 5 bucks you just can't beat it. Especially on dreary, cold, is it going to rain/sleet/freeze rain/hail/ snow times during Louisville's winter season. They let you have free reign on any of the pieces of equipment; the only "rule" was that you can't bring balls over to the huge trampoline. They had rocking horses, tons of balls, a small trampoline, lots of climbing mats and landing mats, a couple of slides, a basketball goal. Your child can jump into the foam pit or take a stab at the bars or balance beams. If you have a climber, you might want to check out this play time to see if you have a future gymnast on your hands! Miss Barbara was wonderful and sang a fun little song at the end of the session and gave out hand stamps. My little boy had never had a stamp before (first time for everything!) and he kept saying "muss" all the way home. "Muss" is 17mo talk for Mickey Mouse. Have fun exploring with your child because parents participate; it is $5 per child or you can buy a $20 pass for five visits (which means you get 1 free!) The Open Gym schedule for ages 1- 5: Mon-9:30-10:30am; Tues-10am-11am; Wed-10am-11am; Thur-10am-11am; Fri-9:30am-10:30am & 10:45am-11:45 am. They also offer a Homeschool Open Gym, preschool classes, as well as structured boys and girls gymnastics.
KGA is located at 1920 Stanley Gault Parkway, #103 in the Middletown area, 502-254-1010.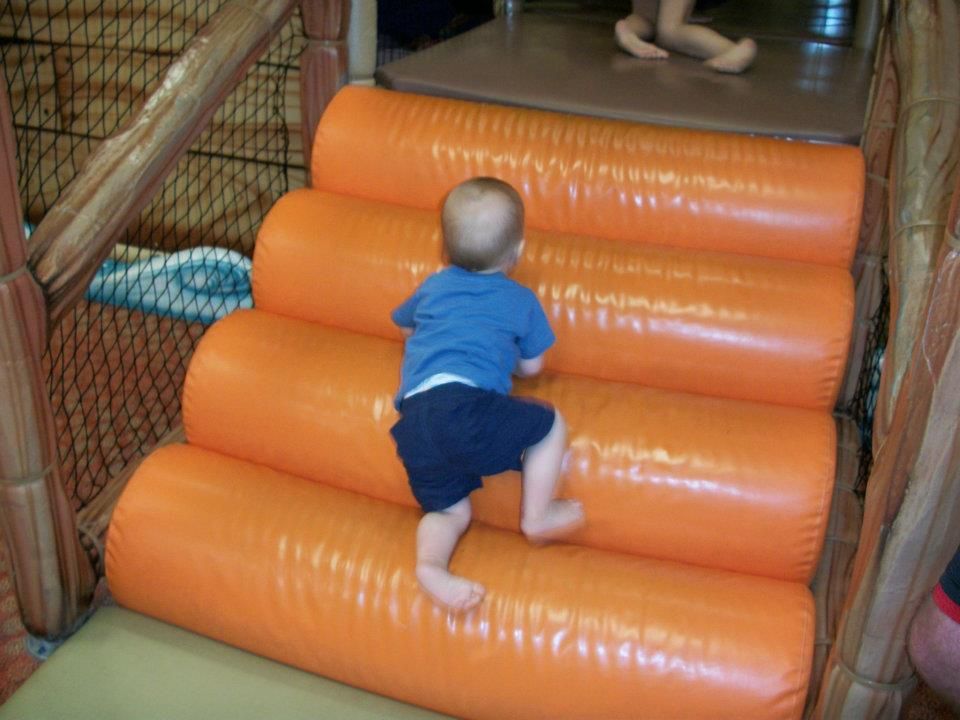 To be updated:
Noah's Ark indoor play area at Southeast Christian Sports and Fitness Building
, Blankenbaker Campus. This indoor play area at SECC is a lifesaver for my family. We started taking our daughter there when she was a toddler and then sadly she outgrew it over the past couple of years. Now that we have another little one, it's perfect for us. Our seventeen-month-old loves this climbing structure and the space inside where he can roam and run a little bit. There is also a smaller area enclosed for real little ones, ages 0- 15 months or so. Best part? It's free! It's open to members and regular attendees who have a card to the facility. If you have friends who are members, they can bring you along as a guest. It's suitable for children up to age 7. There is also a food court seating area on the main floor where I've seen moms and kids eating lunch together: vending machine and Wi-Fi available. There is also a free monthly
storytime
on the first Monday of every month at 10:30am.
Other sites that host open gym and/or play times include:
All About Kids
offers a Preschool Open Gym on Monday-Friday from 12pm-1pm. It is strictly for ages 5 and under. There are two locations:
Louisville
on Blankenbaker Parkway and the newest in Crestwood,
Oldham County
. (502) 809-1386 (They also offer their inflatable fun zone that includes preschool open gym at both locations that runs from 10-2pm. Details can be found at these links -
Louisville
-
Oldham
. Pricing is $6)
KaZoing! Party and Play
has five Open Plays every week: Monday, Wednesday, Thursday, and Friday from 10am-12pm and an additional afternoon time on Wednesday from 4pm-6pm. The cost is $6 per child for ages walking and up. A parent or guardian must stay. Their website says this weekly playtime will be going through May 31st. Your child can play in the inflatable room, the Tot Lot play room, and make a craft. Located at 3600 Chamberlain Lane, Suite 218. (502) 412-1500
At
Puzzles Fun Dome
, there is a $5.00 entrance fee for children 12-23 months old. Parents enter for FREE. The best deal is for a regular child's admission: $6.99 Monday-Thursday all day and Fridays before 2pm. Children under 12 months old are free. They have climbing structures, inflatables, and an art studio among many other options. Located at 11530 Bluegrass Pkwy in Jeffersontown. (502)261-7144
Louisville Gymnastics
offers parent & child gymnastics classes for this age group (18 months – 2 ½ years) Check out their times and prices
here
. Located at 2722 Chamberlain Lane in Middletown. (502) 426-2214
By guest contributor:
Erin
Note: prices are subject to change by these businesses. Please check their website or give them a call!