Over spring break, I took my kids downtown for the afternoon, and lucky for us that was the day that
Kentucky Show!
was offering a free viewing.
Kentucky Show!
is held at the
Kentucky Center for Performing Arts
.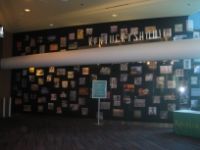 I was so impressed with this documentary about the state of Kentucky and all of its gems and jewels. The presentation is a 32 minute film highlighting the various regions of Kentucky and is loaded with history, breathtaking photographs, and some short famous Kentuckian biographies.
In the audience the day we were there were mostly adults, although I did see a couple of school-aged children and an infant. My nine-year-old seemed to enjoy the show, but 30 minutes was definitely enough to keep her interested. She seemed to glaze over through some of the history portions, but perked up during parts that were familiar to her such as the city of Louisville, the
Kentucky Derby festivities
, and the few minutes on the horse race itself. My little one was kept busy with a huge stash of Cheerios; I did not expect him to sit still but we managed to keep him in his stroller for the duration of the film. He did enjoy seeing the horses race across the screen, the fireworks from the photos of
Thunder Over Louisville
, and the music. I would recommend taking children preschool+ to see the show, it just depends on your preference. The thirty minutes went by fairly quickly for us. I highly recommend this show especially for homeschooling families and if you have out-of-town guests: grandparents will thoroughly enjoy it.
Before the show started, my kids and I stepped outside the back entrance to the Center near the
Belvedere
and walked across the new pedestrian bridge that connects the Belvedere to the
Muhammad Ali Center
. This is a great new addition to downtown and the waterfront!
As a longtime Louisvillian, I was filled with pride during the show. I loved hearing the history and learning of the obstacles that boats came across when coming down the Ohio River early in the days of shipping. It was interesting to hear that because of the fossil beds that are now the
Falls of the Ohio
, ships had to stop and unload their cargo because they could not travel through that area of the river. Louisville became a stopping point on the river because of this, and those origins are what made Louisville, the river city, a place on the map. The photographs and videography are stunning and moving; you will be proud to live in this area after watching this film.
The show runs on the hour Tuesday-Saturday from 11am-4pm and Sunday 1pm-4pm; it is closed on Mondays. Tickets are $7.00 per person; children under 6 are free. They also offer a $5 per person group rate for 10 or more people. The theater is located on the main floor of the Kentucky Center for the Arts.
By guest contributor:
Erin