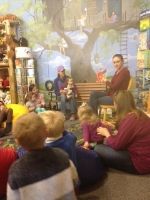 Brilliant Sky Toys & Books
is new to Louisville. The upscale toy store has found its new home in the Shelbyville Road Plaza next to Kiddie Kastle. I just recently attended their Wednesday morning storytime from 10:30am-11am. There is a cozy little nook towards the back with bean bags and a park bench for kids to take over and settle in for a story and an activity.
Every week seems to have a theme that they normally preview on their
Facebook page
. The one we attended was about spring. There was a short book about a curious butterfly. Afterwards the story teller passed out a little caterpillar rattle toy and we joined her in singing a counting song. My boys really enjoyed that part. At the end there was a very informal and very optional coloring activity.
As families were dispersing they would scatter throughout the store and interact with all the great cognitive and developmental specialty toys Brilliant Sky has to offer. I noticed some really unique toys that you can't find in your run of the mill toy section.
Brilliant Sky Toys & Books Story Time is every Wednesday at 10:30am. The store is located at 4600 Shelbyville Road, Suite 234 in St. Matthews. 502-896-0000.
*Suggestion – get there a little early to grab a bean bag. Bathrooms are available and clean as well as accessible during story time.
By guest contributor:
Whitney