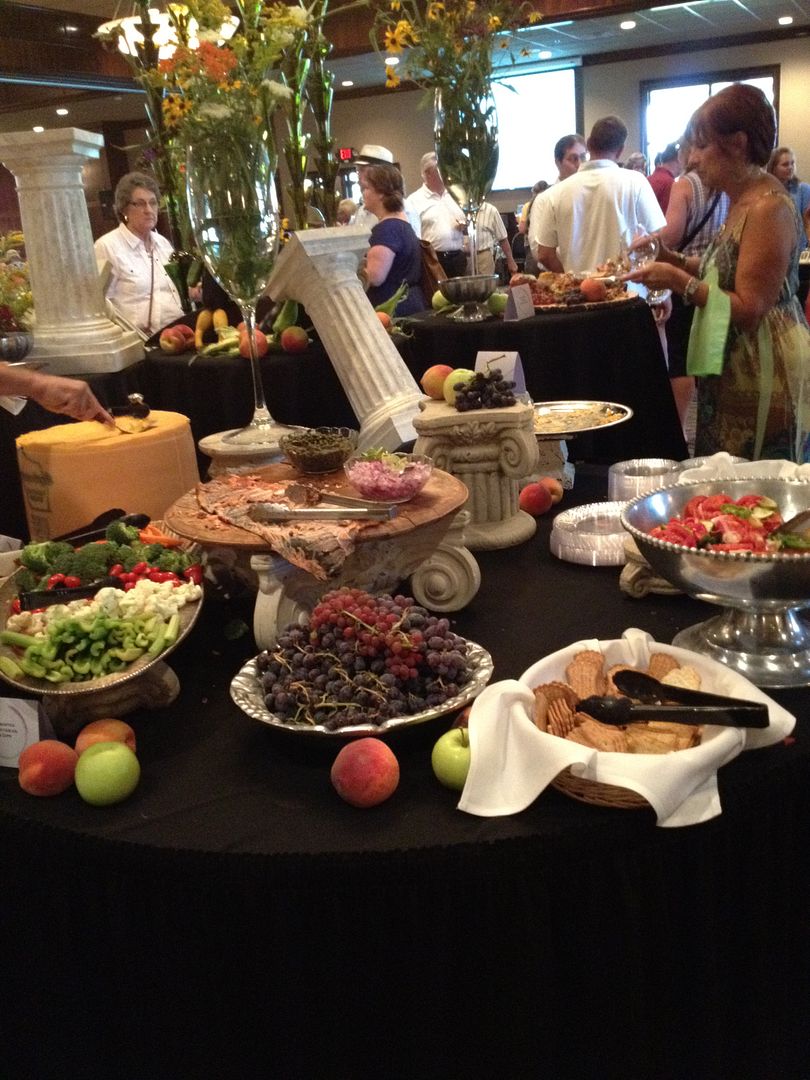 I must confess I am not usually much of a wine drinker and, while I appreciate great food, don't have the knowledge or palate my husband and some of our friends do. I am happy to say that neither stopped me from having a fantastic time at
Indiana Uplands Wine Trail
signature July event in 2012,
Uncork the Uplands
. Designed for every type of wine enthusiast, the event was perfect for a novice like me, as well as those with much more expertise. We had a little trouble figuring out where to go at
Huber's Orchard, Winery and Vineyards
as there was not any directional signage pointing to the proper doors to enter for the hall, but once we figured it out, getting checked in was fast and easy. We turned in our tickets and received a program, a bag for gathering information and goodies, and our bidding number for the silent auction. Then, a friendly face invited us to choose our souvenir wine glass which we would take around the numerous tasting stations.

Huber's Plantation Hall

is a lovely large space with a front stage and lots of room for seating and the great amount of tasting tables all around the perimeter. Welcomes were done on stage, as well as quick mixology session with Lauren Smith, the event's featured bartender from
The Fireside Bar and Grill,
who was on site making a variety of cocktails using the wines.
We then started our tasting tour. All nine of the
Uplands Trail wineries
were there, each with a broad range of their wines to sample, as well as around twenty different food artisans from along the trail. We went from table to table for a while, talking with the pourers about our tastes and which foods we were looking to pair with. Everyone was kind and knowledgeable. We never had to wait long at any station and enjoyed sipping everything from dry rose, to various seasonal fruits like peach and strawberry, to Indiana's signature wine called Traminette.
The food sampling was equally delicious. There was a nicely presented center buffet showcasing in-season vegetables, fruits, a few dips, cheese, and crackers. In between the great wines were tables of food by a wide assortment of various food artisans, with everything from pork tenderloin with two different sauces to contrast and a delicious pesto and fresh mozzarella on a baguette, to duck empanada and fresh baked breads with a variety of dipping oils. Most portions were quite generous and we each felt like we ate a full meal by the time we visited most of the tables on that side of the room.
We took a break to go to a smaller room and watch a food demonstration by the featured guest chef,
Daniel Orr, of FARMbloomington
. It was fun and educational to watch him assemble two of his salad recipes, each slightly altered from those in his books to best take advantage of what is growing locally right now. They had a live camera on him so we could see the food close-up on a side screen. He was available after to chat or sign his books and sent the great tasting fresh salads out to the tasting area. Recipes for both salads, as well as for the delightful chilled soup Huber's executed from his recipe, were in the program guide too, so we can recreate these dishes at home.
After the demo, we returned to the food and wine sampling in the music filled main hall and enjoyed a few repeats of favorites as we tasted ones we missed the first time. There were a couple of tables that featured wines from each of the wineries.
We moved to the other side of the room, checking out the fabulous silent auction items that benefited a few different Indiana groups, and then enjoyed some great homemade salsa and samples from a couple of other wineries on our way to the dessert side. One artisan even has a great little gift bag for each to bring home with a sample of three types of chocolate including details on how to best enjoy it with different pairings of wine. We then enjoyed watching Chef Orr create a dessert during his second demonstration and went out to try the one already prepared as that baked.
Afterwards, we switched to tea and water and enjoyed sitting at the table chatting for an hour and a half, soaking in the terrific atmosphere and live music as they announced more door prize winners and the winning numbers of the silent auctions.
No one in our party had heard of the

IndianaUplands Wine Trail

before this event so were all pleasantly surprised to learn about how many great wineries there are to visit a short drive from home. I had arrived thinking I would enjoy the food more than the wine, but I left appreciating both and made a mental list of favorites to seek out again. I have already checked out the

Indiana Uplands Wine Trail

website to see what other events we can attend because everything was so well done. We noticed many of the wineries feature their own smaller special events, as well as about a half-dozen done

in partnership

throughout the year. It was so convenient and educational to taste from so many different wineries at once, but I can also imagine how meaningful and fun it will be to get a passport and visit them individually or several over the course of a day on our own or through the company that offers limousine tours on the trail. We look forward to doing as much of the above as we can fit in for date days or nights! Keeping relationships solid by having time together to reconnect helps build stronger families and makes all of the great fun family things we have in this area even more enjoyable, so get out there and have a great date!
By guest contributor:
Angela