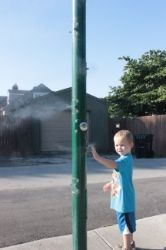 We recently visited Jeffersonville's
Bob Hedge Park
. It was about 5 minutes off of exit 1 from I-65. The park sits inside a neighborhood setting with lots of trees for shade and plenty of free parking. I immediately noticed the size of the play area-it's HUGE! The play area is also gated, which is super nice for those of us with wandering children. The lock on the gate is currently broken but just having it closed seemed to deter the kids from trying to escape. The maintenance staff, who were there emptying trash cans noted that fixing the lock was "on their list", though. The play area was completely covered with rubber for a safer surface. The play equipment was all designed with the physically disabled in mind.
There were gentle inclined ramps throughout the entire area with plenty of space for maneuvering a wheelchair. Like many playgrounds now, there were games installed on the equipment like spinning tic-tac-toe, steering wheels, puzzles and other manipulatives. The good thing here was that all of these were put at a lower level with extra space in front of them for wheelchair placement. They also had two adaptive swings. All of the equipment appeared to be well maintained.
The bathrooms were just a few steps away and each had two stalls with handrails in each. The women's bathroom also had a baby changing station. The doors to the bathroom had a "no touch" entrance/exit device on them. I wasn't able to get them to work, although I could have been doing it wrong.
There were several picnic tables and grills around if you would like to take a lunch. There is also a pavilion with several tables and lights for those who prefer an evening outing.
The park has a small walking loop flanked with exercise equipment. Every exercise station had an adapted version of the exercise for those in wheelchairs. After taking in all that this park has to offer, cool off with their misting station-a big hit with my kids! If you do go to this park, you may consider also checking out a quiet walk on the
JeffersonvilleRiverfront
. It was a 5 minute drive, wheelchair accessible, and beautiful.
Check back often for more fabuLOUs reviews for your special needs or disabled child!
By guest contributor:
Jennifer