Welcome to
August
- summer is winding down, the back-to-school sales and shopping are in full effect (my son chose a new Iron Man lunchbox!) and I am already thinking about
FALL
posts for this website.
What will you do to kick off August? Here are my picks.
All weekend
The Street Rod Nationals are underway at the KY Expo Center. Here is a
link to the full schedule
. There will be 11,000+ vintage cars and activities for the kids as well. It's $14 for 13+, $5 for kids 6-12 and kids 5 and under are free. You can save $2 with a Kroger plus card or military ID (seniors too, bring the Grandparents!)
Friday
Check out
FridayFest at Highview Park
(7201 Outer Loop)- music and fun for all....for FREE. It starts at 6pm - Food trucks/vendors! Bring chairs or a big blanket to hang out and enjoy the music, they will have a kids play zone with bouncy houses and other activities.
Saturday
FREE Playdate at the Kentucky Science Center
! It's 8:30 a.m. - 9:30 a.m. before the museum opens to the public. The playdates are for little ones ages 0-4 and their adult caregivers. This gives the little ones a chance to experience and learn to play in exhibits above the first floor without the big kids all over! No registration required and the best part is, it includes FREE admission to the Science Center for the rest of the day!
In the evening, experience the small town charm of
Pewee Valley at their summer picnic
. There's activities for the kids, food for purchase, a concert in the town center. It's from 6-10pm in the town square.
Sunday
Learn about
downtown Louisville through a free walking tour
. It's Sunday at 2pm (they also have them on Friday at 2pm and Saturday at 10:30am). It's a threeee hour tour, oh wait, no...that's Gilligan's Island. It's actually a 1 hour tour that starts at the downtown Visitor's Center at 4th & Jefferson. Call 502-379-6109 the day before to reserve your spot, it's weather permitting.
Happy August, make it a fabuLOUs one!
Stephanie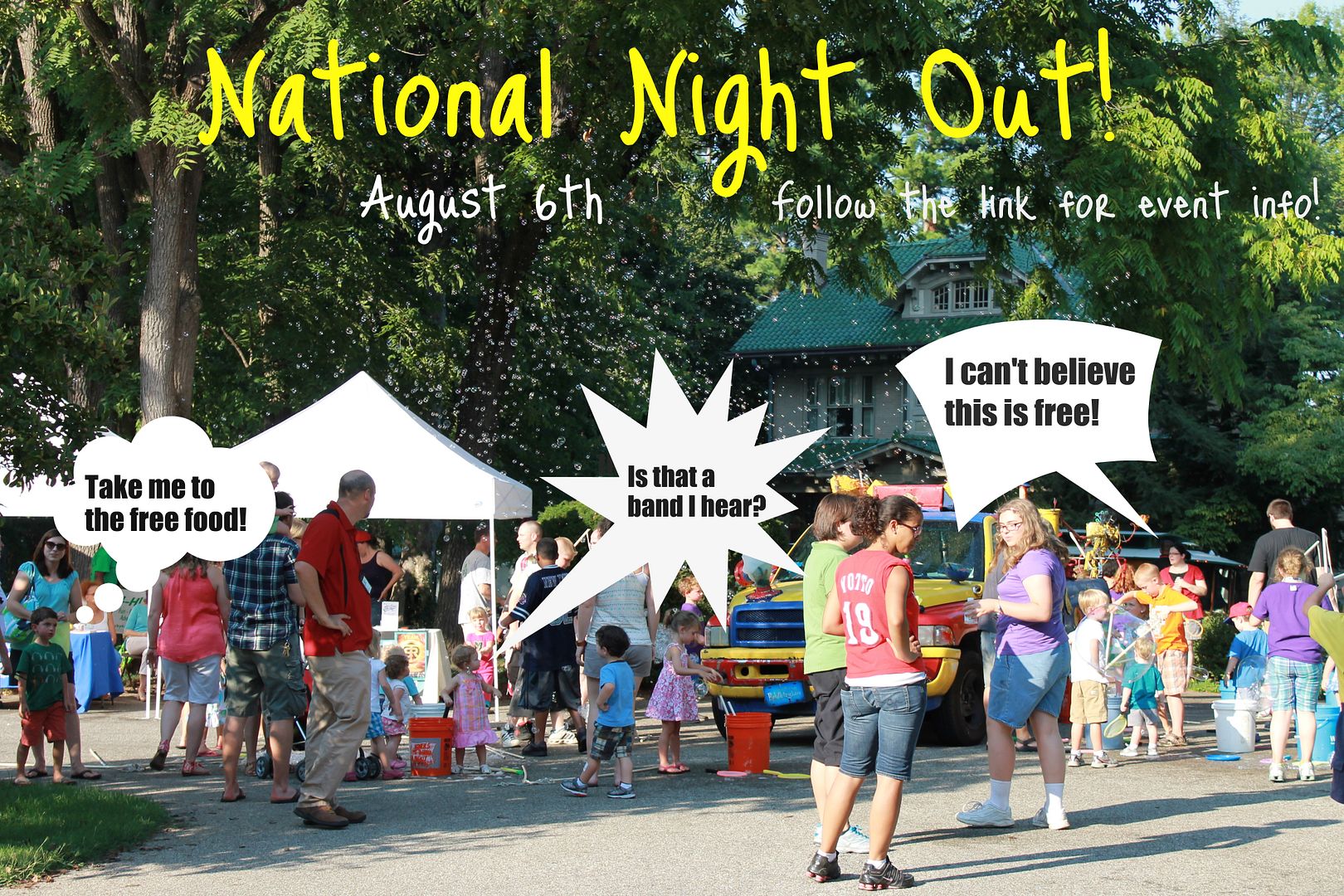 And, Don't miss a National Night Out event around town next week! August 6th. They are all over town with different activities at each location - super fun for the family and a great way for kids to talk with police officers and learn about what they do in a casual, fun environment.
Louisville events
Jeffersonville event