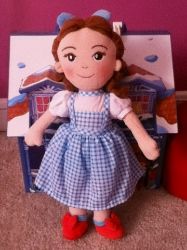 My daughter is one of those girls who really has always been enamored with dolls. So when the opportunity came up for me to review a washable doll and let her tell me how she used her imagination to spark life into her play, I knew she would jump at the chance!
I decided since she is in 5th grade to let her write up her own version of how she played with this doll and what her thoughts were about it: "I made up a game with this Dorothy doll where she was sent out into the woods for no apparent reason. While she was in the woods she came across many animals and had to keep hoping that someone would come save her. She was told that there would be a small river at the end of a path that she started walking on. She started following the path through the woods until there was no more forest and all she could see were buildings. At the end of this long path, there was no river and there was no end of the path, there was a giant spider! 'Now is the time I really need to be saved' said the Dorothy doll."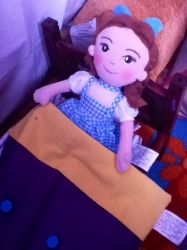 What an imagination! I like how my daughter makes up these imaginary situations and really engages her characters throughout her stories. There always seems to be a conflict and then resolution. In this story, she leaves it with a cliffhanger! We really don't know what might happen to Dorothy and the giant spider, much like in the movie she faced the witch and those flying monkeys! She is continuing to have a lot of fun with the Dorothy doll and I really like it because it is washable and very easy to clean.
Since this Madame Alexander doll is a Dorothy doll, the character from The Wizard of Oz, I'd like to remind readers that
Derby Dinner Playhouse
does offer the play,
The Wizard of Oz
, at their dinner theater. It's over for this current season but my husband and I have been to that play on a date night and really enjoyed it. We've also been to a couple of the children's theatre shows at the breakfast showings and have absolutely loved them. Check out their shows for children
here
. The Madame Alexander Dorothy doll can also be found locally at
Rabbit in the Moon
. The company that set the Dorothy doll for Louisville Family Fun to review is going to giveaway one doll to a lucky reader! Be on the lookout for that contest!
By guest contributor:
Erin