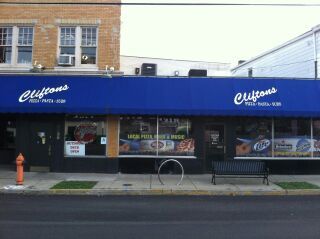 Clifton's Pizza
on Frankfort Avenue is one of my family's favorite spots in town. Whether we're kicking off a night at the Frankfort Avenue (FAT)
Trolley Hop
or stopping in for a quick lunch after touring the Gate House at the
Crescent Hill Reservoir
, there's always something on the menu for us. My kids love the spaghetti and meatballs, and the kid portions are generous enough for my voracious eaters. They have some of the best pizza and subs in town. It's also a great place to dine on a
budget
- I think our last lunch bill was $24 for my family of four. The biggest bill my family of four has racked up there was $41 after the tip. You can save money with your
Kids Eat Free VIP Card
too, a great deal that will pay for itself immediately because of the freebies!
The atmosphere at Clifton's is laid back and casual. They have live music sometimes, though I've never been there for that. There is also an eclectic collection of clocks on all the walls, and my kids really enjoy counting them and discussing which ones we like the best while we wait for our food. In the bar room there's even a bear on a bike riding a high wire overhead.
As if all that weren't enough,
Homemade Ice Cream and Pie Kitchen
is right next door and
Comfy Cow
is right across the street. There's only street parking, but I've never had much problem finding parking on the side street. Check their website for specials and coupons. See you there!
By guest contributor:
Maggie