You know what I am doing this weekend with the kids? Raking leaves....a lot of them. I live at the end of the street in a cul-de-sac and not only do the leaves from the 12+ trees in my yard drop all over my yard but my yard serves as a stopping point for all wind blown leaves on my street. It's impressive. Good exercise for the family considering I am still eating Halloween candy, we all are.
Don't forget to check out the
Kids Eat Free VIP Card
- Erin just used it at J. Gumbo's on Poplar Level Rd, Maggie has used it at Clifton's Pizza and I've used it at Copper Cupcake. Savings all around!
Check out this LouFamFun podcast on
Louisville.am
- It's my interview with one of our writers, Tami Pyles. It's all about kids with food allergies to educate us all about the challenges that go along with it and how we can all help keep these kids safe. Great one to listen to with all of the holidays and parties we may be attending!
Picks for the weekend - There's no boredom when there's LouFamFun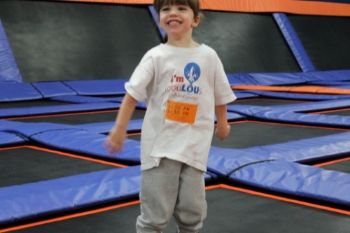 Friday:
Have a little one that likes to bounce?
Sky zone has Toddler Time
(Ages 5 and under) EVERY FRIDAY MORNING from 11am - 12pm. It's less expensive than on a normal visit, we love that! It's $8 per toddler.
Friday night, take a break from cooking and try a new family-friendly local restaurant. We have a list, of course - click
here
.
Saturday:
It's your last chance to enjoy breakfast and see
Miss Nelson has a Field Day
at Derby Dinner Playhouse!
Louisville Nature Center is having an event called Turkey Time Tid-bits
from 10:00 to 11:00am. It's a fun educational hour about the bird of the month with a craft also. It's free for members and volunteers; $3 per person/$12 for groups of 4 or more. It's limited to 15 participants and
you must register by Friday, Nov. 8 at close of office hours.
Check out our
holiday events post
,
Santa arrives at Bass Pro Shops in Clarksville
this weekend! They have a
fun event
starting at 5 pm and running until 8pm with all sorts of free holiday cheer.
Sunday:
It's going to be a lovely day (at least that's what's predicted when I am typing this on Wednesday). How about getting active with your family on Sunday.
Try a park or trail, we like:
Anchorage Trail
,
Creasey Mahan Nature Preserve
,
Okolona Park
,
Seneca Park
, and
Tyler Park
(just to name a few!). Or, take a stroll over the
Big Four Bridge
and grab a bit to eat in
Nulu
. Better yet, grab your bikes and explore a
family-friendly bike path
! So many ways to enjoy a sunny Sunday in Louisville.
Have a fabuLOUs weekend,
Stephanie