1. Libraries in and around Kentuckiana
Louisville Free Public Library
- I am most familiar with LFPL and their 18 library locations all over the city of Louisville. There are completely free (isn't that the best part about public libraries!) DIY projects, 4-H groups, art classes, tween and teen programs, knitting for kids, evening family/craft storytimes, photography sessions, etc. You name it, there is a kid-infused, family-friendly do it yourself opportunity every week, and that's why it is #1 for my family! Check out your local library, here are the links to the surrounding counties:
Oldham County Public Library
/
Shelby County Public Library
/
Bullitt County Public Library
/
Spencer County Public Library
/
Charleston/Clark County Public Library
/
Jeffersonville Township Public Library
2. J.B. Speed Art Museum's satellite spot in Nulu: Local Speed
Free. Free. Free. Cool art projects. That are FREE! My 10-year-old and I recently attended one of the Saturday drop-in sessions that typically run from 11am-3:30pm. Recently they offered a really cool Photoshop program for middle schoolers. Check our our recent review
here
. One of our favorite spots in town for art experiences!
3. Louisville Visual Art Association (LVAA)
This is on our family's bucket list to experience this winter. Their website has so many different, unique offerings.
4. Kentucky Museum of Art and Craft (KMAC)
They are constantly offering drop-in art workshops that typically run $6 per participant (unless you're a member of the Museum, then they are free). A plus: they offer many of their programs on Sundays, perfect for busy working families looking for a way to spend time together on a Sunday afternoon.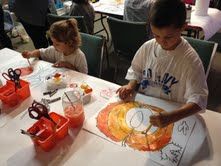 5. Mellwood Art Center
has art classes for kids every Saturday. They run $20 a class. Check out their schedule
here
.
Honorable Mention: Museum of the American Printing House for the Blind.
They seem to offer workshops or events all year long that are great for family outings!
By guest contributor:
Erin