Back in the saddle, back in the routine and you know how I know? We stats are back to normal. When you all are at home, cozy, doing holiday stuff - there's no need for seeking other things to do. But, once January 1st is over, you are on the hunt for ideas and flocking to our website. And, we thank you.
Be sure to keep close tabs on our social media (Facebook and Twitter) because we have something in the works and it's going to be big.
Need some easy listening? Tune into our latest podcast on
Louisville.am
with Beth Hall from
Hall Talent
- if you have a budding star or have interest in performing arts yourself, she's the expert and I find her highly engaging.
Here are my picks for the weekend: A "learning" edition
Friday
:
Jeffersontown Library is having a
Sensory Storytime
from 10:30-11:30, sign ups required. It is designed specifically for children with sensory sensitivities that are ages 3-8. Limit 12 families so call 502-267-5713 to see if there's space.
Learn about family friendly local restaurants and dine out! Try a new family friendly restaurant. We have two lists that will help you select one to try.
Top 10 on a Budget
Food and FUN!
Saturday
:
From 10 am-noon at
Bernheim
, you can take the family to learn about raptor. It's $10 for members and $15 for non-members.
A Reader's Corner
has a special storytime at 11am with the author of
Oliver Overcomes Obstacles: Our Resilient Hero
.Every child will receive a free book and light refreshments will be served.
At 11am at The Paddock Shops Barnes & Noble, there is a
"Kindness Matters Storytime."
Indoor storytimes and a little shopping/exploring is always fun in winter.
Sunday
:
Totally stellar! It's the
Cosmic Explorers workshop
at the Rauch Planetarium. It's from 2 - 5pm, kids ages 4 to 6 will learn about winter in space compared to winters on Earth. You must register. Members:$20, non-members: $25. After, families will enjoy a free showing of
Comets: Elusive Frozen Wonders
from 4 - 5pm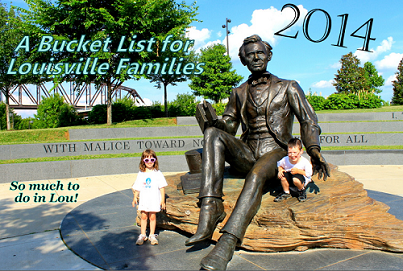 Take some time to review our 2014 Bucket List to plan for a fabuLOUs year. Our fabuLOUs Erin puts this together each year and it's an awesome resource. Click on the image on the left.
Have a fabuLOUs weekend!
Stephanie