Here's what you should do this weekend: Get on a plane and go to Hawaii or maybe southern California or the Caribbean. Ok, ok - that sounds expensive. But, wouldn't it be nice to be jet-setting off to warmth right now?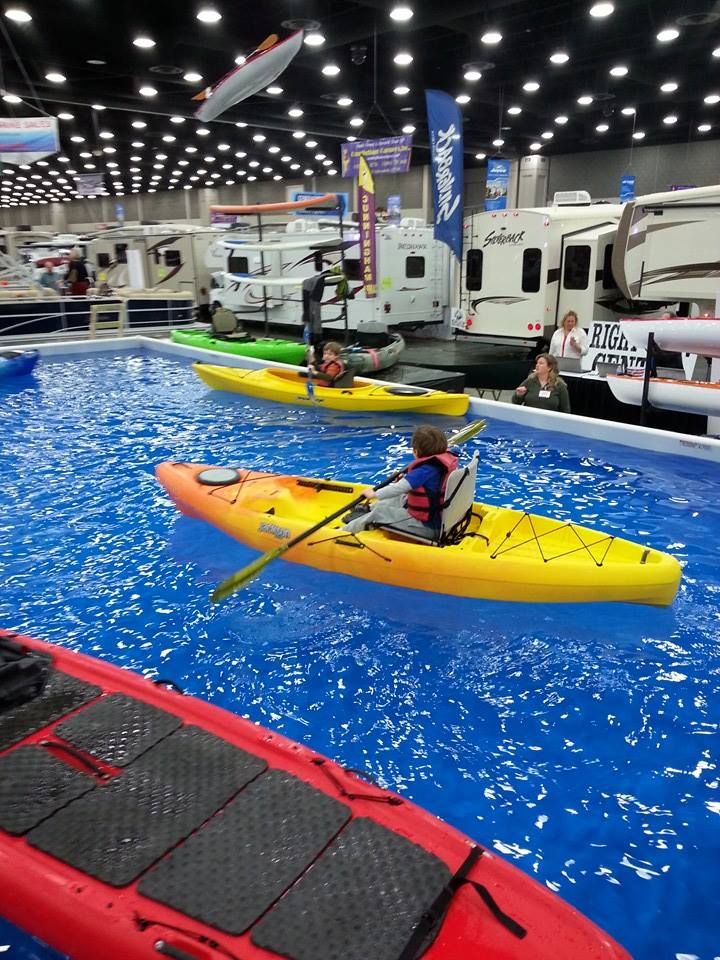 Happening all weekend pick:
Have no fear, there's a place you can go this weekend and feel like your getting away. Check out our fabuLOUs Maggie's kids at the
Louisville Boat, RV & Sportshow
- they went yesterday. You see, you can take the kids boating there and you know, kids 15 and under are free. It's open through Sunday - details
here
.
Maggie said this regarding what the kids liked the best: "The canoe thing was a big hit. There was also a giant plastic tumbler thing that they LOVED. But they also enjoyed exploring all the RVs. They wanted to buy every single one we went in. They loved all the bunk beds and tiny bathrooms. The boats were fun but the campers and motor homes were AMAZING!"
Other picks:
Friday
: Are you into those painting places? Try
Whet Your Palette
. I was just there this week and I can say that it is a pretty sweet place because 1) It's in a cool house 2) It's in a cool setting near Anchorage Trail and The Village Anchor and 3)They have paintings that you can do for just $10.
Saturday
: A reader recently told me that she loved the American Printing House for the Blind because it's a "touch" place and her kids can explore everything without her worrying that they are getting into something they shouldn't. Love that tip. Well, Saturday from 10:30 a.m. - 12:30 p.m. they have an exhibit "This is Your Life, Louis Braille." According to their website, you can "meet the inventor of the code used worldwide by the blind to read and write, in person! Visitors from Braille's past, including his family, childhood friends, and teachers, will tell us the stories behind this talented musician, and inventor who was blind since the age of six. Celebrate his birthday with some distinctly French refreshments." This event is free and open to the public but space is limited so registration is required. Call
502-899-2213
or email kcarpenter@aph.org to register. It's for all ages.
Sunday
: Be a hometown tourist and visit the Louisville Slugger Museum. They have a new exhibit called
"Pinball to Pixels"
that I think kids and parents will enjoy together. Kids love video games and these are retro, classic, blast from the past. It runs through the end of February. Adults $12, Seniors (60+) $11, Kids (6-12) $7, Free for Kids 5 & under . Sunday 11am–5pm (Monday–Saturday 9am–5pm)
Have a fabuLOUs weekend,
Stephanie