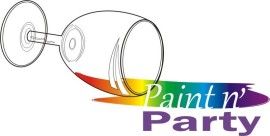 Paintn' Party
has some unique parties planned for you this week and next! I met owner Tiffany Whelan a couple of months ago and I really love her spirit for what she is doing, she love bringing art into people's lives. She's a working art teacher by day and party artist by night. Check out these awesome upcoming classes.
Sweet Sprinkles Bakery - Derby Painting Party
Sweet Sprinkles Bakery
435 N. Bardstown Road - Mt. Washington KY
Thursday, April 17th - 7pm
$35 for painting, beverages and treats!
RSVP required - Click
here
Martinis and Masterpieces
The Chocolate Bar at Wesport Village
Twin Spires!
Thursday, April 24th - 6:30 pm
$35 for painting and any one choice of Martinis!
RSVP is required - Click
here