This post is sponsored by:
April is such an awesome time in Louisville - Baseball,
Derby Festival
,
Easter
and outdoor fun.
Save the date for May 17th. It's our next Louisville Family Fun Experience Series Event. Tickets will go on sale in late April.
Check out our recent podcast with Derby Dinner Playhouse!
Podcasts are sponsored by
LearningRx
Springhurst & St. Matthews. Use the code PODCAST to save $100!
Here are my picks for the weekend:
Friday:
Farmer Jason Show
from 10am – 11am and Noon-1pm (2 shows, also 2 on Thursday 4/10) at the Paul W. Ogle Cultural & Community Center Indiana University Southeast (4201 Grant Line Rd. New Albany, IN 47150) This is a FREE concert, BUT RESERVATIONS REQUIRED! Farmer Jason is the brainchild of rock music legend Jason Ringenberg of Jason and the Scorchers. In 2002 he created Farmer Jason to educate and entertain children about farm life and the wonders of nature. We saw Farmer Jason a while back - super fun show! You can make your reservations online.
Saturday:
Gorgeous weather for the weekend, get outside!
Thunder Fun stuff! Did you know that the Meijer Family Fun Zone is open to anyone with a Pegasus Pin this year? See details by clicking
here
.
Or, how about
18th Century Thunder at Locust Grove
. Educational, fun, affordable - love it!
Free admission to the grounds and the encampment program. To tour the historic house: $6 adults, $3 kids 6-12, free for kids 5 and under. You are welcome to bring a picnic lunch.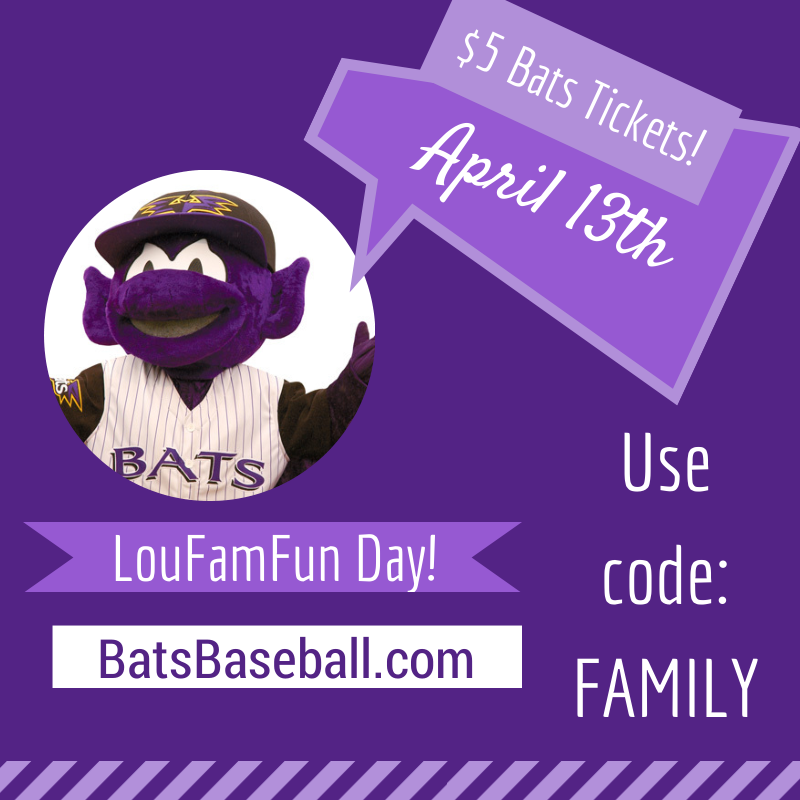 Sunday

: LOUFAMFUN DAY AT THE LOUISVILLE BATS. 2:05pm start, lots of fun promotions for Sunday and a LouFamFun reader will be throwing out the first pitch with Stephanie. $5 tickets and the beautiful sunshine..........what more could you ask for?
Tickets: BatsBaseball.com


Stephanie