Lucky's Market
just opened last week, and three of our writers ventured over there earlier this week to check out the digs at this new store in east Louisville.
I was privileged to get a sneak peek of the new Lucky's Market before it opened to the public. I actually was lucky enough to go twice. I am glad that I gave it another shot before I wrote the review. The first time I ventured in the new grocery store was very crowded. Imagine Trader Joe's x5 on their first few opening weekends. The second time I went back I was able to linger in the aisles and check out all of the unique items. In what seems like a totally different life I went to culinary school, so for me getting to wander through grocery stores and check out new items is so much fun (assuming that I am kid free). I was in awe, from the produce area that has produce
beautifully stacked to the deli meat that was cooked in house. They had meat cases with house smoked bacon, ground beef, ground turkey, ground turkey thighs (you don't see that at Kroger) burgers with toppings ready to go on the grill. It was beautiful. Ground beef was even $1.67 per lb (limit 5 lbs per family). What I can't stop thinking about is the rows of bulk items. Think barrels of flour, sugars (brown and white) almond flour, pasta flour, arrowroot flour, gluten free flour. The list could go on but I would probably bore you with my enthusiasm. Have you ever needed just a small amount of a spice but you didn't want to buy a $4.00 jar of a product you might only use once? You can buy various spices by the ounce there. Bottom line, I think that I would shop there for meat and produce and probably stick to other places for canned goods and such. It isn't super close to my house so the prices need to stay low on the high quality products for me to venture out of my normal routine to frequent their establishment. The other point that I have is during peek hours (Think rush hour on Hurstbourne Lane) is not ideal especially if you have a limited time schedule. ~
Allison
Lucky's Market – from the Point of View of Thrifty Mom
I am a pretty thrifty shopper – I usually search sale ads and try to match coupons to help save my family money. Definitely not Extreme Couponers material, but I try not to overspend when I can help it. So, imagine my delight when I saw the ad circular for Lucky's Market Grand Opening. Blueberries for 88 cents?? 3 pounds of red and golden delicious apples for a dollar? Wow! I was pretty impressed. Upon actually walking into the produce department, I was struck by how clean and organized everything is. Neat stacks of lemons (3 for $1), bell peppers (48 cents!), grapefruit (2 for $1), and cucumbers (48 cents). At least the cucumbers were neat until my toddler chose one from the bottom of the pile creating an avalanche effect into the neighboring jalapenos. But anyway, the produce is gorgeous! The sales were amazing and the regular priced items were pretty much around what you would pay at a national chain (maybe only slightly higher, but again the quality was incredible). The meats, I found to be more expensive than I'd like to pay, but the sale price of ground beef (hormone free!) of $1.67 per pound made me happy. They also had larger shrimp on sale for $5 per pound which made my kids happy. Because of the organic nature of a lot of their packaged foods, things like soups, canned items, pastas, etc. are more expensive than what you would buy at a national chain. However, as I was browsing this morning, I did overhear more than one person comment that Lucky's prices were better than Earth Fare. They also have a bulk section where you can buy grains, flour, coffee, etc. by the pound and those prices I thought were very competitive. One thing that makes me positively giddy, being the thrifty shopper I am, is the Double Ad Wednesdays. What this means is both the upcoming week's and the previous week's ad items are on sale all Wednesday long! They also accept manufacture's coupons. I've signed up on their website to get their ad emailed so I don't miss anything. Because where Lucky's is located from me and so many stores in between, Lucky's won't replace my regular shopping trip where I have my coupons ready and sorted, but I will be looking forward to checking my inbox for their Wednesday circulars! Happy shopping! ~
Dana
I must say, I loved the open air feel as I walked up to the garage-like doors that were ajar at the soft opening of
Lucky's
the other evening. It was a beautiful summer evening, and walking in and seeing the produce lined up, the fresh corn on the cob on sale for 3 for $1, and being greeted by the 10 for $10 display of
Rooibee Red Tea
had me begging for more. How Louisville/lovely/local was this store going to be? Very much indeed.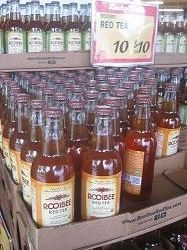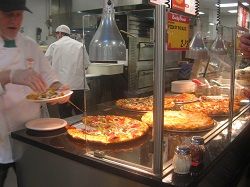 Now, the place was hopping and it was hard to really shop with a grocery cart, so I will venture back one day soon, and I'll be making it a pit stop about once a week to pick up specialty items. You know what I really took away from the feel of the store? The genuine, local, organic, Kentucky proud feeling that seemed to stem from everywhere. It is a natural and local-based grocery and specialty store. Signs all around proudly state things like "We are committed to seeking local products." I'm going to highlight the family-friendly things I took away from my visit. First of all, these cute small grocery carts are begging for little ones to help shop with mom, dad, grandma, babysitter, etc. What better way to show your family how to eat more healthy than to have them involved in the process of picking out healthy foods? Secondly, the deli counter: can I say grab and go quick healthy meal options abound here?! So many ideas for take-out. Sure you have to venture in the store, but ditch the drive-thru once a week and stop here and make it a fun family outing piecing together a meal as a family. They also had pizza by the slice options for 2/$3 and they have some tables in the front and some picnic tables with umbrellas outside-where it looks like families could grab something from the meat/deli counter and eat there. It'll be fun! Thirdly, their upcoming family-oriented events sound super and just what LouFamFun is all about! On Saturday, May 24, they are hosting their "grand opening" event complete with $1 house-made brats, $1 hot dogs, and $1 sodas (cash only). They will also have live music, face painting, and a visit from the Middletown Fire Department. It's from 11am-3pm. Also on Sunday, May 25, they have a Local Food Fest from 11am-3pm. Their sale ad for opening included some awesome deals, go check it out together soon! ~
Erin
Lucky's Market is located at 200 North Hurstbourne Parkway.
Hours: 8am-10pm 7 days a week
Phone: 502-883-4781
Newsletter sign-up
for great deals
Website
http://www.luckysmarket.com/location/louisville-ky/
Facebook
Twitter
By guest contributors:
Allison, Dana, and Erin