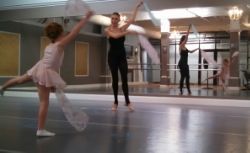 Recently, my 3 year old daughter attended a ballet class at
Fleur-de-Lis Academy of Ballet
. She has never done ballet and my most recent exposure to it was when I was 5, but I was very impressed with the class! The owner and teacher, Ariadne Connor, was very energetic, exciting, engaging, and everything she did was developmentally appropriate. She clearly has a lot of experience and a passion for ballet and to help others appreciate it as much as she does.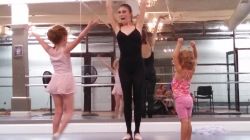 The class started with some basic warm up stretches to songs and music. She sang and showed the students how to move. They soon stood up and practiced some of the basic positions, but she didn't stress that they were perfect – it was more of an introduction to the idea for such young students. They then spent time with scarves; they ran across the room jumping over them while acting like different animals, and eventually used them in their hands while twirling and spinning. It was very active and fun. My daughter had a blast and keeps asking when she gets to go back.
There are many class options for various ages, although some are already full. Classes start August 25th. The studio opened this summer and will be fully running in a couple weeks. As time continues, they will expand their space, allowing for more classes to be taught in the future.
The studio is located in the Mellwood Arts Center. I would definitely suggest going a little early your first time if you are unfamiliar with the center, as it took us a little while to find the studio. A couple helpful hints are to find the elevator, go to the second floor, go left, and then right. It really isn't hard to find if you know what to look for!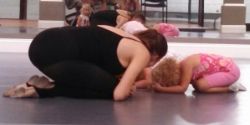 After going to this one class, I would highly recommend it if you are looking for an activity for your child. As far as ballet classes go, it is very inexpensive, at only $15 per class (compared to 20-30 at many other places). If your child is interested in ballet at all, I am sure they would really like this studio. There is plenty more information about the studio on their
website
.
By guest contributor:
Lauren