This is a partially sponsored post.
Dive into the wild world of the arctic. Leave Earth behind as you explore the stars, space and beyond. Discover the ideas behind today's technology… and take a bite out of Hollywood's favorite craze as we explore the science behind zombies. All these themes and more are available this fall during SCHOOL'S OUT SCIENCE CAMP at the Kentucky Science Center. Science SCHOOL'S OUT SCIENCE CAMPS offer exciting educational experiences for children in grades Pre K-8! Join us for unique topics that are designed to inform, engage and entertain! Camp prices vary. Register online at
KYScienceCenter.org
or by calling
502-561-6100
.
In alphabetical order:
All About Kids
October 3-7 and 20-24. Ages 4+. Half and full day options. Swimming, open gym, and more! Prices range from $30/half day to $185/week for full day.
JCC Schools Out Days
All days include sports, arts and crafts, swimming and more. October 3-7. 9-3, with before and after options. $62/day.
Kazoing
Jumping, art, games, play and much more. October 3-7 and 20-24. $40 Full day, $22 half day.
Kentucky Science Center
Lots of science related learning and fun. Pre K-6th grade. Half and full day depending on age. $24-$45/day.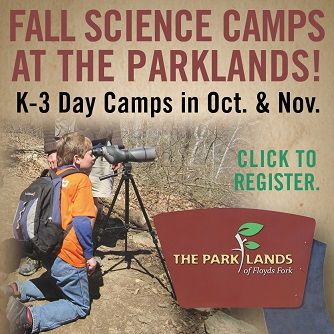 The Parklands at Floyd's Fork
Explore the science of hibernation and habitats! Grades K-3. 9-4. $45/day for non-members.
YMCA of Oldham County
October 21-25. Swimming, arts and crafts, sports, fitness, games and time in our Adventure Center. Ages 5-14. $40/day or $147/week for non-members (cheaper for members).