Tami
was given admission to open gym for the purpose of writing a review.
My daughters, ages 3 and 5, and I went to the Inflatable Fun Zone and Preschool Open Gym at
All About Kids in Crestwood
for great escape from the heat and a great way for them to get exercise!
The Fun Zone, which is open M-F from 10am – 2pm, is only for kids ages 5 and under (they do offer Fun Zone times for older kids as well). This preschool only time really allows for the little ones (and their moms) to enjoy their time without worrying about older kids taking over the play space. For just $6/child the Fun Zone boasts three large inflatables (bouncers and slides), a small trampoline, multiple slides in different sizes, ride-on-toys in different sizes, and a climbing structure. They really do have something for all ages.
We arrived at 11am and were the first ones there. My girls were ecstatic to have free rein over the play area. Not long after we arrived though, more friends showed up. In total there were about 15 kids in the Fun Zone that day and while the overall space is fairly compact, it did not feel crowded.
Moms of younger kiddos are generally inside the fun zone helping their little ones navigate the play structures, but there is also a seating area just outside the Fun Zone so moms can take a seat and still see the entire play area. Another great feature of the Fun Zone, it has two locking gates so no one can escape!
At 12:00pm, the larger gym opens and all of the kids, again only those 5 and younger, are allowed to go over to the "big" side and use the larger gymnastics equipment. Prior to opening the big side an instructor will gather the kids and go over the rules, which are focused on safety. Once the gates open the kids can enjoy large trampolines, foam pits for jumping and swinging, balance beams in various heights, a trapeze (which is manned by a staff member), and various bars and rings. As a mom of two, it was a little stressful when both girls wanted to be in different parts of the gym and needed assistance, but you can see the entire gym at all times so it was easy to split time and still keep an eye on both.
While the big gym was open, there were two staff members on the floor, monitoring safety and enforcing the rules. They were very attentive to the kids and would help anyone who needed it. My oldest daughter actually fell off of one of the balance beams while we were there and instantly a staff member came over to check on her and brought her some ice. I don't think she really needed it, but thought it was great customer service!
The big gym is open for an hour and the staff was great about giving a 5 minute and 2 minute warnings that the big gym was about to close. Once the big gym closes you can return to the Fun Zone until 2pm. One thing that I noticed on this visit (and others), the Fun Zone is relatively quiet while the big gym is open. So, if you have a really little one that might be a great time to visit the Fun Zone to try out the bigger play structures.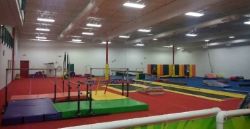 The facility, while a few years old now, is still very clean and the equipment is all in good shape. The restrooms were clean and have small sinks which is great for post-play clean up. They also offer cubbies to store shoes and other personal items. And, they do now have a snack bar and another big gym area which was not available when the facility first opened.
All About Kids
is one of our go-to indoor play spots. It is great for getting little bodies moving and climbing. It offers a fun and safe environment for kids to play and a great space for moms to connect. It is an ideal spot for a play date or just a fun morning out with your kids. You can get a membership to the facility, but the Fun Zone and Open Gym are open to both members and non-members.
To learn more about All About Kids in Crestwood including the Fun Zone, Open Gyms and other great things like classes and parties visit their
website
.
By guest contributor:
Tami