Nicolle was given admission to open swim for the purpose of writing a review.
Like most children, my kids get super-excited any time they are presented with the opportunity to swim. We had been to
All AboutKids (AAK) in Oldham County
several times before, but had never used their indoor swimming pool. We decided to take a break from our summer outdoor pool spot and give it a try this week.
I called AAK to verify the open swim hours. On this particular day, open swim was 2-4. (I recommend checking their
website
and/or calling ahead of time to verify open swim times since they vary throughout the year and you never know if the pool could be closed unexpectedly.) The cost for non-members to swim is $9 per child and $7 for members (parents do not pay to swim). There are open swim packages available for purchase if you become an AAK member.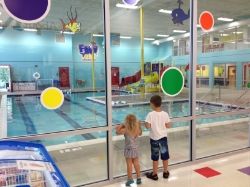 AAK requires all children to have waivers on file for swimming and all other activities. They recommend arriving about 15 minutes early before open swim if you need to fill out waivers for your children. Once we signed in, we were given wrist bands for the pool. You can see the pool from the front desk; my kids were very excited!
The pool entrance is right by the front desk. They have chairs set up outside the glass wall for parents that want to watch swim lessons or those that have children old enough to swim without adult supervision. (Their website states that children five and under must have an adult in the water with them.)
There are changing rooms/restrooms inside the pool area. My six-year-old son was not allowed to enter the women's changing room with my daughter and me (boys five and under only). I felt totally safe with him waiting in the pool area outside the changing room. The changing room was very clean with three shower stalls, three additional changing stalls and three toilets. Each stall had a toddler chair and a small bench. There were no lockers, so we put our bag alongside a wall in the pool area.
We were greeted by a staff member and were asked if we had ever been to open swim before. The staff member explained some basic rules and guidelines for the pool. He explained that all swimmers had to take a small swim test that would determine if they have to wear a life jacket in order to go anywhere in the pool. (The deepest section of the pool is 4'6".) My very novice six-year-old swimmer was kind of excited about the test. He was asked to swim a short distance across the 2'6" section of the pool without putting his feet down. I knew my two year old would need a life jacket, which AAK provided for her. The same friendly staff member helped put the life jacket on her, which was a nice gesture.
On this particular weekday, there were AAK summer camp kids using the pool for about an hour during open swim time. The pool was never too crowded and has a maximum allowance of 40 swimmers. My son enjoyed the two small slides, one tube and one shorter slide. I liked that my two year old was allowed to use the slides even with her life jacket on. She was a little hesitant to go down the shorter slide with me waiting in the water. Twice, the staff came over to the slide to hold her hand as she slid to me. Unfortunately, the sprinklers and fountain on the pool deck were not working on this day because I know my two year old would have enjoyed them.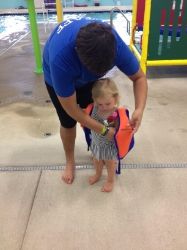 It was nice to swim indoors for a change this summer. The water was warm, we did not have to worry about sunblock and (my favorite) there was no crowd. I can see us visiting this pool again in the cooler months, too. I also liked that the staff were always on the pool deck and that the restrooms and water fountains were all within the pool area. The evening and weekend open swim times will accommodate our family during the school year, too. Open swim is for children twelve and under. The pool and friendly staff were all well suited for this age range.
By guest contributor:
Nicolle