It would be an understatement to say that my family was excited to hear that
Red Pepper Deli
in Crestwood was opening a frozen yogurt bar! We decided to check out
The Red Peppermint Frozen Yogurt Bar
on their opening day.
The deli and yogurt bar are connected, so my family decided to have dinner at Red Pepper Deli and then dessert at The Red Peppermint. The Red Peppermint is similar to other self-serve yogurt bars. There are 10 yogurt flavors and over thirty topping choices. We started out by sampling a couple of the flavors and then made our final yogurt choices. My son decided on a twist of birthday cake and cookies 'n cream yogurts. He added some traditional sprinkles from the assortment of containers on the wall across from the yogurts and then got super excited to see the buffet of other toppings! Owner, Joe Heitz, recommended my son try the peculiar looking popping bobas topping. He chose the strawberry bobas, snickers chunks and a cherry. In the end his yogurt cup looked very strange, but he was excited to have made his own concoction! I was a little less daring and went with white chocolate mousse and dreamy dark chocolate.
The yogurt bar addition includes its own checkout counter where the yogurt cups are weighed. The Red Peppermint charges .49₵ per ounce. Our cups were moderately filled and once they were weighed, our total was a little over $4.
The Red Pepper Deli prides itself on serving great food, so I knew the yogurt bar wasn't going to disappoint. The yogurt is delicious! We had no problem finishing our dessert, even after a filling dinner. The yogurt was perfect consistency and wasn't too sweet for my taste. My son loved the popping bobas, too!
Joe Heitz said they are planning to continue to add more features to the yogurt bar, including a frequent buyer card that can be used at all of the Red Pepper locations. He is still considering adding cones to the menu, too.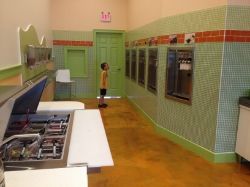 We love that Crestwood now has a frozen yogurt bar! Our favorite thing about The Red Peppermint is that it's locally owned and part of a great restaurant; our family can enjoy a delicious meal and refreshing treat all in one spot. There is plenty of indoor seating, patio seating and my son loves the new window bar stool seating. If you're looking for a great family-friendly treat, I recommend trying The Red Peppermint located right off of Veterans Memorial Parkway at 6401 Claymont Village Drive in Crestwood.
By guest contributor:
Nicolle