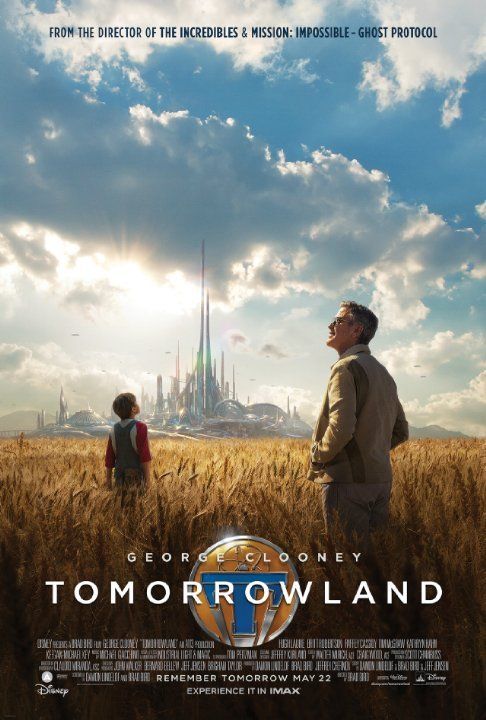 Erin was granted free admission for the purpose of review.
Last week my family and I attended the movie screening to the new Disney film,
Tomorrowland
, at
Carmike Stonybrook 20 Cinemas
. We thoroughly enjoyed the movie and all thought it was a great film.
When I first saw a preview/trailer for the movie on television, I thought the movie had something to do with kids traveling to some other land via the ride "It's a Small World" at Disney World. And although Walt Disney and the history surrounding the World's Fair from 1964 is part of the film, it's so much more than that. It takes movie goers on an adventure to a another land via pins that are given to pre-selected individuals: the dreamers of the world, if you will. The world doesn't have to stay a mess; it can be fixed. Why can't we fix the world? is a predominant theme throughout the movie. The girl character, Casey, played by actress Britt Robertson, leads the audience through the use of her imagination, invention, and perseverance to understanding that we don't have to just accept the way things are or will be. We have the power to change the outcome, if we dream it and believe in it and ourselves. Throughout the film, we are reminded to remember the future.
I don't want to give away too much of the film, but I will say it was highly entertaining and very enjoyable for adults as well. The conversational tone and jokes had my husband and I laughing out loud, as well as our 12 year old daughter and the rest of the audience. I appreciated the humor and dialogue, as well as the stunning visual effects and the places you'll go on an adventure through the film. You feel like you are right there with the characters. And it stars George Clooney: you can never go wrong with that right moms?!
Tomorrowland opens up at theaters nationwide on Friday, May 22. It is rated PG so keep that in mind; I would venture to say it is not suited for little ones, but upper elementary + will really enjoy it and there is nothing that stood out to me that was inappropriate.
By guest contributor:

Erin