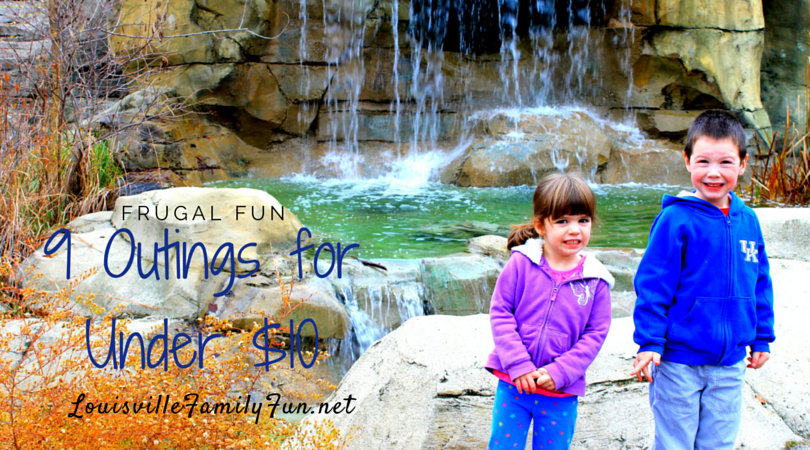 If you're on a tight budget, you may think there's not much out there for your family to do. Luckily, LouFamFun has your back! Here's a list of 9 things you can do with your family of four for under $10!
1. Village 8 movie theater in DuPont has $2 Tuesdays. That's right, $8 for your whole family to see a movie!
2. Good Garbage is my family's favorite place to spend a day off from school. The kids go in the back and glue and glitter everything in site and you pay whatever you think you should- I usually do $5 per kid.

3. Bernheim Forest is a great place to go hiking and enjoy nature. The cost is $5 per car (weekends - free weekdays), so even larger families can enjoy the nature!

4. If at least 1 of your kids is under 5, your whole family can visit the Salato Wildlife Center in Frankfort for $10!

5. If your kids are under 5, your whole family can visit the Thomas Edison House in Butchertown or Whitehall on Lexington Road for $10.

6. Admission for your whole family is also $10 if your kids are under 5 when you visit the brand new Louisville Water Works Museum at the historic Water Tower.

7. Visit the Falls of the Ohio for hiking and exploring for just a $2 parking fee. Or, (when it re-opens in fall 2015) head to the interpretive center. The admission fees are modest - an adult and a child can enjoy it for under $10 with the parking fee.

8. Visit Bricks and Minifigs in Louisville. They have a free play area (with a couch for mom and dad!), and let your kids put together their own mini-fig from the bin for $4 apiece or 3 for $10.

9. Henry's Ark is technically free, but it depends on donations from visitors to feed the animals. A $10 donation would greatly benefit the animals, and there's a great place for picnics!
By Guest Contributor:
Maggie