We were given the opportunity to check out The Kentucky Science Center's brand new
Science in Play
attraction before its opening weekend! After many months of waiting and being teased with prototype exhibits, Science in Play was unveiled at the beginning of July. It offers brand new exhibits and bigger, better, updated exhibits from the previous children's area. The new space is now housed over the entire first floor of the Science Center, which more than doubles the amount of space previously dedicated to early childhood education. The area includes the former KidZone area, the area that was once reserved for the traveling exhibits and also an expanded area.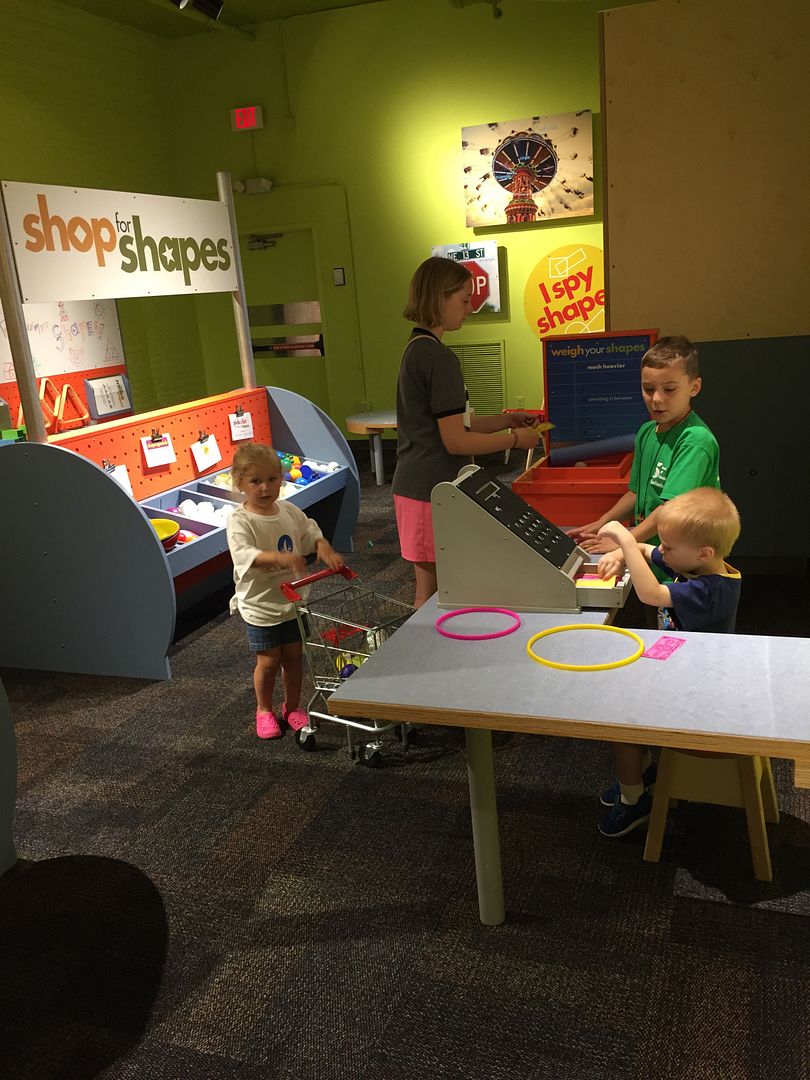 Your children will be drawn to the brand new 14 foot Happy Climber that sits in the middle of the children's area. Children can climb and explore safely inside this exhibit, developing gross motor skills. There are several other fun areas near the Happy Climber, including the Noodle Forest (my seven year old said it was like being in a kid carwash), Build Your Own Rollercoaster, Mirror Maze and other fun activities!
The remodeled KidZone area does not disappoint. My favorite area was the Science Depot where children are encouraged to use real science tools and do a hands-on project that goes along with the month's theme. Science Center employees are in this area to help facilitate with the projects, learning and creativity. Right across from the Science Depot is where you will find a giant Lite Brite in the Color & Light area. Children can explore colors through shadow play, a light table and Lite Brite wall.
Continuing on through this area, children can pretend to drive a Smart car before heading into the Shapes & Stuff Store. This area was a favorite to both my three year old and seven year old. This area promotes math skill development through pretend play. Children can play with different shapes, shopping carts, a cash register and scale. My children loved playing "store" with the different shapes and viewing how shapes are all around them in their environment. Two things that caught my eye in this area were the Book Nook and several table stations where children were given a space to learn through other avenues besides pretend play. Books were available for children or caregivers to read and tables and chairs equipped with paper and writing tools were available for those children that prefer to explore the shapes independently.
The former KidZone area also has a new Build Your World exhibit where children can hone in on engineering skills using blocks and other loose parts. And don't worry – the Splash! Water Table is still included in the new Science in Play!
As children walk over to the expanded new area they can play on the new Optimusic floor. They can create their own sound and light show through movement around the circle. Also in this space you will find an area specifically created for toddlers and babies. The Grow Zone is a protected play space where very young children are given opportunities for safe sensory exploration. Older children can have fun at the Airways exhibit located near the new Grow Zone.
Science in Play is included with admission to the
Kentucky Science Center
and offers fun, engaging avenues of exploration for young children and their families. My family is excited that the Science Center improved and expanded their children's area, is now including hands-on projects, has a protected area for very young children and kept some of the already great exhibits! Young children will surely enjoy the new Science in Play!
By Guest Contributor:
Nicolle