This is a partially sponsored post
We have 4 Summer Camp posts, click here to see more!
This summer we invite you to join us on an artistic adventure as we explore some of our favorite things in new and exciting ways! Back by popular demand, our popular Messy Camp, Star Wars and Fairy Art Camps are all back! We'll be creating things that glow... Lightsabers, stone fairy houses, wands, tiny fairies. Our witches and wizards, in Harry Potter camp will create handmade wands and potions! Also this year, My Little Pony, Animals, Just Paint!, Boxes & Bowls, Oils, Sculpture, Large Mixed Media and more. Our fun and talented staff will guide your young ones to discover their inner artist at our Art House. Three age groups including TEENS. Class sizes LIMITED!
AGES: 4-16
WHEN: 12 camps weekly through summer beginning May 29.
M-F: 8-10:30, 11am-2pm & 2:30-5. (Full day & late pickup options.)
COST: $95-$225 per camp
WhetYourPalette.com
• WYPalette@gmail.com • 502.438.8865
Spend your summer creating and exploring at Side by Side Studio's art and nature inspired summer camps! Offering 4-day camps for ages 3-6 including Art Meets Science, Think BIG Art, and Art-Nature-Music! For ages 5-11 we have 5-day camps including Art-Nature-Mindfulness, Art Around the World, and Build it-Sculpt it-Recycle it! Save your spot now at
sidebysidestudio.com
! or 502-640-1813
Los Monitos camps are the perfect combination of fun and learning! 6-12 year olds and their parents can choose from FOUR COOKING camps and FIVE ADVENTURE camps! This year we've doubled our popular cooking camps and added new missions to TWO International Spy Camps (for 8-12 year olds.) Combine multiple camps for discounts! Experience a variety of languages, cultures, and geography, including Spanish, French, Italian, German, Chinese, Japanese, Korean, and Hindi! Visit
www.losmonitos.com/summercamps
or call (502) 893-0933 for more information.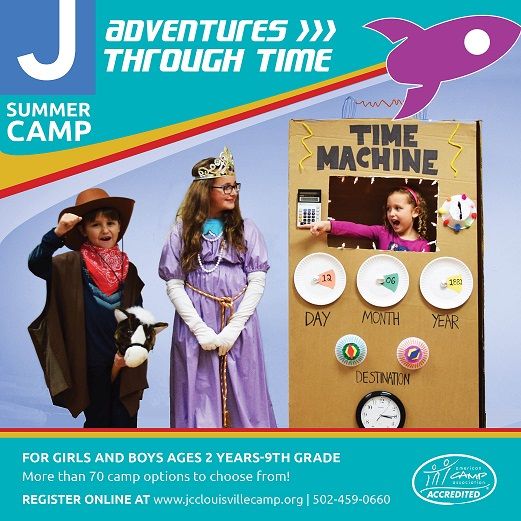 Take an Adventure Through Time with The J Summer Camp where there is something for every child. The J Summer Camp offers traditional camp for children 2 years through 10th grade with arts & crafts, sports, free swim, swim lessons and more!
Children 2 years old receive private swim lessons twice a week, children 3 and 4 years old receive group swim lessons three times a week and children in Kindergarten through 3rd grade receive group lessons daily. Specialty camps are also offered which include: Soccer, Theatre, Dance, Lego, Cooking, Art and more. All specialty camps enjoy a daily swim.
We believe that all campers can participate, all campers can succeed and all campers can make a new friend. Our Yachad program integrates children with special needs fully in our regular program. We also offer a special unit for preschoolers transitioning into Kindergarten. Our beautiful campus includes two outdoor pools, baseball and soccer fields, basketball courts, as well as indoor gymnasiums, auditorium and more!
3600 Dutchmans Lane, Louisville, KY 40205 • 502.459.0660 •
http://www.jcclouisvillecamp.org/
Our Musical Theatre camps are the perfect combination of a traditional camp experience with all of the activities mixed in with fun and excitement in singing, dancing and acting. CMPI Young Performers-Elementary ages. July 17th-21st. 9-3p.m. or overnight camp July 9-15th. A broadway themed show will be performed at the end of the week for parents. This is great for girls and boys. Experience the magic of Broadway in a fun learning environment with top professionals in the industry.
Students will love our daily activities too. Water day, Movie day, and so MUCH MORE!! Students may bring their own lunch. We will provide a themed snack daily.
Register on our website
Classicmelodies.org
.
Summer Cooking & Fashion camp
themes with hands on enriching activities for creative girls! Cooking camps include everything from menu designs, baking, food photography, mini chef wars, to a final end of week luncheon! Fashion Camp includes everything from prints and pattern inspiration, drawing, making, hair and make up, and a confident end of week runway show! Each day is packed with positive life skills for girls who love to create! 8:30am-1:30pm. More info on
website
.
DERBY DINNER PLAYHOUSE - SUMMER MUSICAL THEATRE CAMP A one-week performing arts camp for students ages 7-17 exploring drama, music, and dance. $175 each; 9am-3pm; June 19-23; July 17-22; July 24-29; July 31-Aug 5; Aug 7-12. REGISTRATION OPENS FEBRUARY 15TH! To register or for info: www.derbydinner.com/classes or wallace@derbydinner.com
DRAMA BY GEORGE — Check out our awesome drama camps for children and teens! We offer Center Stage Drama Camp for beginning actors (ages 8-12), Advanced Center Stage Camp for experienced actors (ages 11-14), and Comedy Improv Camp for teens (ages 13-16). We'll see you onstage!
In alphabetical order - will be updated as more camps released their information:
** denotes "preschool too!"
Abigail Academy
Cooking, baking, and fashion options available. Just for girls! Options in June and July. Ages 5-13. $300/week. 8:30-1:30.
Bellarmine University
Camp Kenzie
Design and create hats. Ages 7-13. 2 day camps in June and July. $175 per session.
Classic Melodies
- Musical Theatre Camps are the perfect combination of a traditional camp experience with all of the fun activities mixed in with singing, dancing and acting with top industry professionals. Two camps to accommodate all ages!
Clint Vaught's Young Actors Institute
June 12th-23rd. $350. 4th-8th grades. At YPAS, show The Lion King KIDS.
Derby Din­ner Play­house
See information above
Drama by George
See information above
Gillman's Dance Academy Frozen Dance Camp
Jazz with Jamey
All instruments, all ages, all abilities. Two weeks of camp options.
Kentucky Museum of Art and Craft
Options in June and July. 9-4 for $220/week, or half day options available for $110/week. Ages 5-11.
Kentucky Shakespeare
Louisville Collegiate School
** Six Weeks: June 5-July 14. Over 100 options for half-day and full-day camps and classes. Ages 4-18. Taught by experienced teachers and open to all students.
Louisville Leopards
For kids entering 2 -5 grades, half day, Hawthorne Elementary School, two weeks to choose from.
Louisville Dance Alliance
**
Louisville Drama Project
Musical theater camp. July 17-28. 9-3 Monday through Friday. $250. 6th-12th grades.
Louisville Visual Art Association
Variety of art options such as photography and painting. June – August. $230 for full day, 9-4. Ages 7-14.
McClanahan School of Irish Dance
** June 6-8 and June 18-20. 9:30-11:30. Ages 4-12. Irish dancing & music, Irish art & crafts and Irish stories. Cost: $85/child, $75 each add'l child.
Oldham County Schools Arts Center
**
Paint Spot
For kids age 6 and up, 9-3pm $235 per week.
Sacred Heart School for the Arts
***
Speed Art Museum
**
Stage One Family Theatre Camps
Suzuki String Institute
** June 11-16. $75. Ages 0-18. Violin, viola, cello and guitar lessons for ages 3+.
The Artist in You
Camps all summer long for kids age 6-14. Half day or full day, even single day workshops.
Walden Theatre Camps
** Imagination, art, theater, skill building camps. 2 week options for $495. Ages 3-11.
FUNfortheArts.com is also a fantastic resource for camps!