This is a partially sponsored post.
GymTyme Day Camp
is designed for children of all interests. The day will be filled with fun activities such as games, crafts and watching movies in addition to playing in the gym!
Spring Break Dates: April 3 – 7, 2017, 8:00 AM – 5:00 PM.
Pricing: 20% Sibling Discount is Offered
• Daily: $40 • Weekly: $170
30% OFF Promo Code: SpringEB30 expires March 5, 2017
www.GymTymeAllStars.com
502-365-4811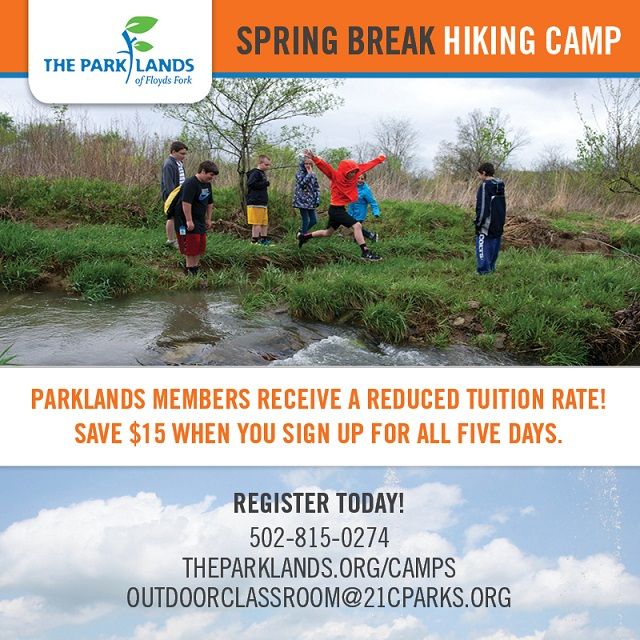 Spring Break Adventure Camps
at The Parklands of Floyds Fork Do you love to explore? Join us for our Spring Break adventure camps! Learn your way around The Parklands with our knowledgeable interpretive staff. Each day we will hike a different trail, learning where to look for salamanders, spring peepers, birds of prey and other wildlife. Options for both beginners and hikers that are more experienced are available. Choose single days of camp or book the full week at a discounted rate. Parklands Members receive a reduced tuition rate.
www.theparklands.org/camps
502-815-0274
outdoorclassroom@21cparks.org
Bring STEAM to life using LEGO® bricks, technology and other engaging tools!
Snapology
provides a fun and safe environment for children ages 4-14 to learn about robotics, programming, animation, engineering, video game design, science and more. New for this spring break is our Summer Camp Sampler – try something different each day! Spring camps are held at the St. Matthews Community Center.
***Multiple registrations receive a discount.*** Please visit
https://louisville-ne.snapology.com/camps/
to see what we have planned!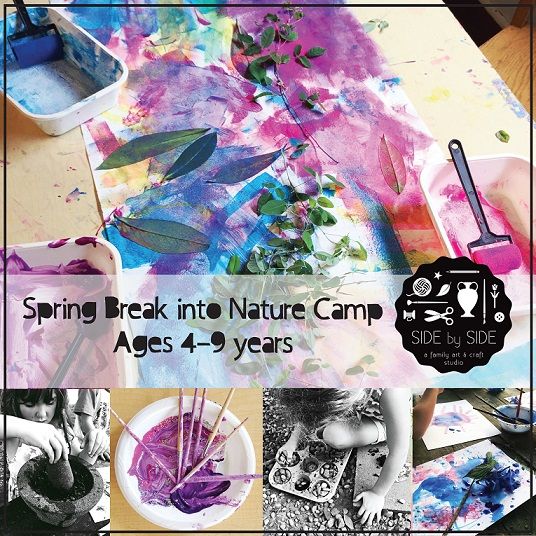 Spend your Spring Break creating and exploring at
Side by Side
Studio's art and nature inspired springbreak camp! Offering a 4 day camp for kiddo's ages 4-9. Activities will include nature weaving, life-size stick figure walking sticks, creating container gardens for urban spaces, build your own worm farm, and learning how to create dye and paint from plants.
To register visit us at
sidebysidestudio.com
or call 502-640-1813.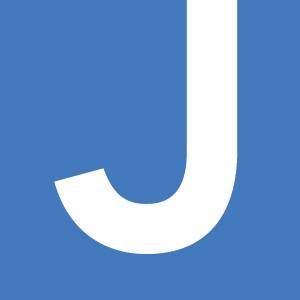 The
J Spring Camp-Global Celebrations
: Come join us in the festivities! This year for The J Spring Camp we are going around the world in celebration with themes ranging from Chanukah to the Albuquerque International Balloon Fiesta. Each day campers K-6th grade will celebrate a different festival with crafts, games and daily swim.
Traveling is for everyone this week! With a Kentucky and Louisville theme, campers learn how to read maps, explore Kentucky, navigate in the airport, cook Kentucky foods (especially for the Derby season!), and so much more! Make memories on your trip to Abigail academy this spring break! 9am-2pm. More info on
website
.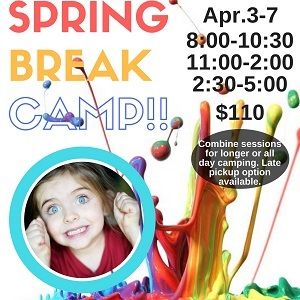 Whet Your Palette
, The Art House In Anchorage is offering SPRING BREAK CAMPS imitating artists of many different media! We will be sculptors and mobile makers like Alexander Calder and smush, mold, pinch, squeeze and twist! We will be painters and mindbogglers like Salvador Dali and his dripping clocks and stretch, drip, splatter, distort and fade. We will use paint, canvas, and our imaginations to create truly wonderful pieces of art! Our very talented and fun staff will guide your young artist to discover a world of possibilities in our seven art room house. Some of our learning fun (splatter paint anyone?) will venture outdoors into our garden space as well.
AGES: 4 - 12 years.
WHEN: April 3-7. 3 Sessions offered 8-10:30, 11:00-2:00 & 2:30-5. (Full-day with late pick-up available.)
COST: $110 per camp
Listed in Alphabetical Order.
All dates are April 3-April 7 unless otherwise specified.
** Denotes camp for preschool!
Abigail Academy
- Ages 5-15 (1st-8th grade). $250. 9-1, bring a lunch. March 27-31 and April 3-7.
All About Kids Camp a Bunga
** Ages 4+. Swimming, open gym, and more! Prices range from $39.20 for one day to $159.20/week for full day. 9-5, by can pay additional for 8-6. March 31st (Louisville only) and April 3-7. Louisville and Oldham County locations.
GymTyme
** Games, crafts, movies and time in the gym. April 3-7. 8-5. $170/week or $40/day. Ages 3 and up.
Handwriting Camp at Kids Center for Pediatric Therapies
. April 3-6. 2 age groups, same price ($255). Ages 4-young primary. 9-11 or 12-2 depending on age.
J Spring Camp Global Celebrations
** - Grades PreK-6. 9-4. $65/day.
Kazoing
** Jumping, art, games, play and much more. $25/half day or $40/full day. March 31st and April 3-7.
Kentucky Museum of Art and Craft
- Camp Couture - Learn about and create jewelry. Ages 10-14. 9-4. $220.
Kentucky Science Center
** Physics and engineering. Pre K-8th grade. $45/day. 8-5 March 31st and April 3-7.
Parklands
Beginner hiker camp for K-3, experienced hikers camp for grades 4-6. 9-4. $210/week or $45/day.
Power and Grace Gymnastics
Crafts, open gym and games. 11:30-3:00. $150 for the week or $35/day
Louisville Zoo
** Age 4-6th grade. 8-5. Zoo walks, close encounters with some animals, arts and crafts. $49/day.
Side by Side
** Spring Break-into nature camp. Ages 4-9. April 3-6. 10-1. $120
Snapology
- Math, science, technology, engineering, etc. Ages 4-14. Most camps 8:30-4:30, bring a lunch. Some half day options. April 3-6. St. Matthews Community Center.
Stage One Family Theater
K-5. Half day and full day options. Fundamentals of acting and improvisation. $150/week for half day (K-1st only) or $300/week for full day.
Turnip the Beat
- Kids cooking competition camp. April 3-6. Ages 7-14. 9:30-12 or 2-4:30.
The Parklands at Floyd's Fork
Hiking adventure day camps! Grades K-6. 9-4. $50/day or $235/week.
Whet Your Palette
3 times for 2.5 hours each, or combine for all day for a discount. Ages 4-16.
YMCA of Greater Louisville
- Grades K-8. Multiple locations. Activities and 3 field trips during week.
Zaniac
Math and technology. K-8. 9-12 or 1-4 for $299/week or 9-4 for $499/week. Full and half day options as well. Single day options March 30th-31st.