Passes are good June 3 - August 12, 2017.
Children and families will be able to track their progress online via the
LFPL Cultural Pass website
.
June 3rd at the Main Library from 10am-1pm is the "Calling All Super-Readers!" kick-off event for summer reading and for kids to pick up their Cultural Passes.
Kids who visit five or more venues are eligible to get a free t-shirt. Kids must have their Cultural Pass stamped by each venue when they visit. There will be an event (TBD) that will serve as a closing party and that's where kids get the shirts. Also, there's the potential to win prizes if kids visit a LOT of the venues. More details on this still to come!
Other things to know:
Participants 0-21 can get a Cultural Pass
The pass is good for one-time general admission
One adult will get in free with the children who have passes
It's for family use, not for groups
You don't have to live in Jefferson county to participate, you just simply have to have a LFPL card. For example, if you live in Oldham but work in Jefferson.......your pay stub, business card or employee ID card earns you access to LFPL cards for your family.
*****************
Here's an image of the 2016 pass - for reference! Also to note, passes have to be original and you must go get one at a library or community center in order to participate.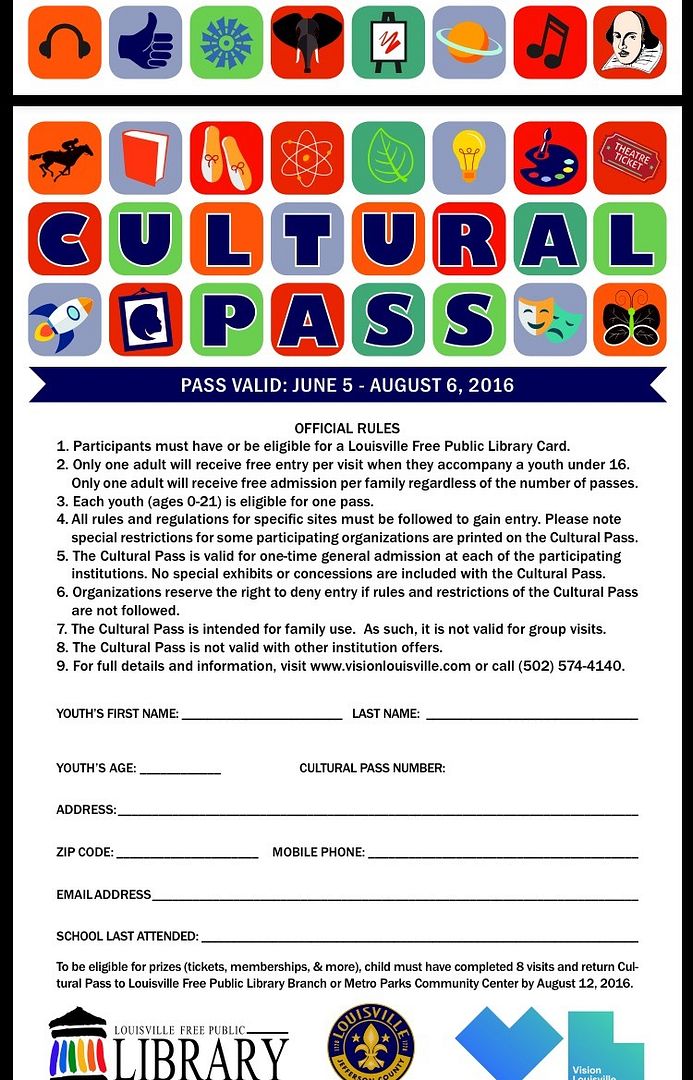 *****************