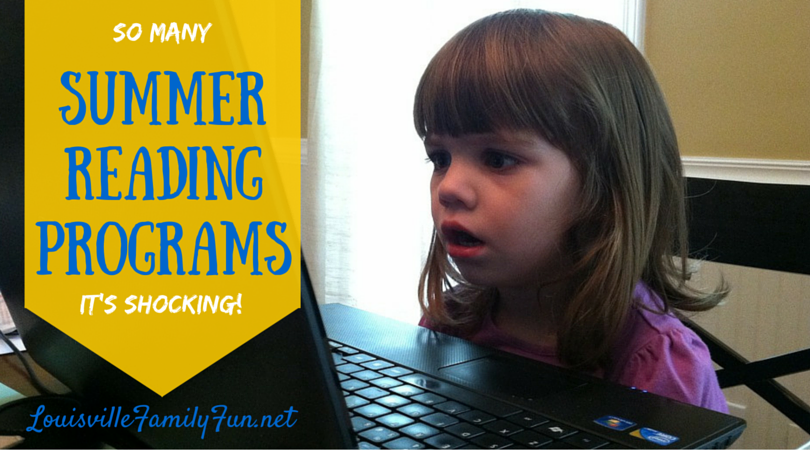 Help your kids prevent the dreaded "summer slide" by participating in a dozen+ free summer reading programs and other educational fun over the summer months! Remember, any parent or caregiver who reads to a child counts for those younger ones!
A Reader's Corner
- Check in with this local bookstore this summer for storytimes and other reading information and incentives.
Barnes and Noble
- Beginning May 17, when your child in grades 1 through 6 fills out the completed Summer Reading Triathlon journal, he/she is eligible for a free book! They are celebrating 20 years of summer reading!
Bullitt County Public Library
- ON YOUR MARK, GET SET, READ! This is a free program to help children and teens combat the summer slide. For children, there are stories, crafts, and other activities. All participants are awarded coupons and prizes.
Carmichael's Kid's Summer Book Club
- Registration for Give Me Summer, Give Me Books Bingo! is open at Carmichael's Kids for young readers of all ages. Kids just need to come to the store, grab their summer reading bingo card, pick up a few books and start reading! Completed Bingo cards should be returned to Carmichael's Kids by August 25th, 2016!
Chuck E Cheese Reading Program
- Click on the Kids Corner, then Activities and Downloads to find the Read With Chuck E. tab. You can get information about the reading program (which runs all year) at your local Chuck E. Cheese.
Fazoli's
- has a tab on their website devoted to kids' activities and family nights. Check it out here.
Half Price Books
- The Feed Your Brain summer reading program usually starts on June 1 and runs through the end of July. In the past, readers log 15 minutes of reading time per day. When you reach 300 minutes, kids can bring the reading log in and earn $5 worth of bookworm bucks to be used for purchases in the store. High school students can also participate by writing reviews of the books they read!
Jeffersonville Township Public Library
- This library includes Jeffersonville and Clarksville. Check back for an update on their
2016 Summer Reading Club
.
LifeWay R.E.A.D.
- Reveal. Explore. Amaze. Discover. Join us on our 2016 summer reading journey, June 1 to Aug. 31. We want to help you and your family promote the love of reading in your home as well as encouraging the love of God's Word through reading His Scripture. This program is geared toward grades 1 through 6, but all are welcome to join in the adventure. Challenge: Read six books over the course of the summer and memorize six Scripture verses. Reward: Turn in a completed summer reading journal at your local LifeWay store to earn a free book and a new free Bible.
Louisville Free Public Library
- Reading is Magical summer reading program begins on June 1.
New this year: online registration for Summer Reading and will include lots of interaction for kids-they can earn badges and track their reading lists and progress and more. Preregistration is now open. Reading is Magical this summer at LFPL! Generally, elementary aged kids and younger read 10 books over the summer and log them. Prizes include a cool backpack and free passes to many attractions around the city and state. There is also a teen summer reading program. More information is forthcoming on the
website
.
A
Reading is Magical Celebration
takes place on June 4, 10 - 12:30pm at the Main Library, 301 York Street. Magical fun for all! Harry Potter exhibit, crafts, obstacle course, storytelling, enchanted worlds. Fun for all ages. Pick up your summer reading form.
New Albany-Floyd County Public Library
- Check back for more information about their
2016 Summer Reading Club
.
The Old Spaghetti Factory
- Contact them
(502-581-1070
) to see if your child can read 5 books and earn a free meal!
Pizza Hut's Book It Program
- Reading program for kids in grades K-6.
Pottery Barn Kids
has offered a reading incentive program in the past; check their website for details for this year. Some stores offer weekly story times, and if you become a member you can earn an incentive prize after attending five story times.
Scholastic Summer Reading Challenge
- Be a Reading Super Hero! Kids sign in and log the minutes they read beginning onMay 9 and earn prizes as they go. There are also links for educators and parents with helpful information such as book lists and other activities.
Sylvan Learning Center's Book Adventure
- Register your child on the website. Then, children will take quizzes over books they've read and exchange their quiz points for prizes. This reading incentive program is year-long.
Texas Roadhouse
- An ongoing reading program whereby kids read 3 books and write them down on the bookmark provided. Turn it in for a free kid's meal with an adult entrée purchase. It's for kids 12 and under. I found bookmarks at the Middletown Library.
The
Cultural Pass Program
with Mayor Greg Fischer - This popular program returns for its third year. Information can be found at any Louisville Free Public Library location beginning mid-May.
Our recent
LFPL Library spring break article
has a ton of awesome links to educational fun that goes on all year long. These FREE programs and resources are especially fun in the summer!
Open eBooks App from Michelle Obama
- If you're part of a Title I school, your child has access to thousands of free electronic books.
Read It Down
- Have fines on your children's library accounts? Step into the library where kids and teens can read their fines down! Check out more about the program here
Also check out
Oldham Family Fun
and
Shelby Family Fun
for information about library summer reading programs in those counties!
Happy reading and prize earning!
By guest contributor:
Erin