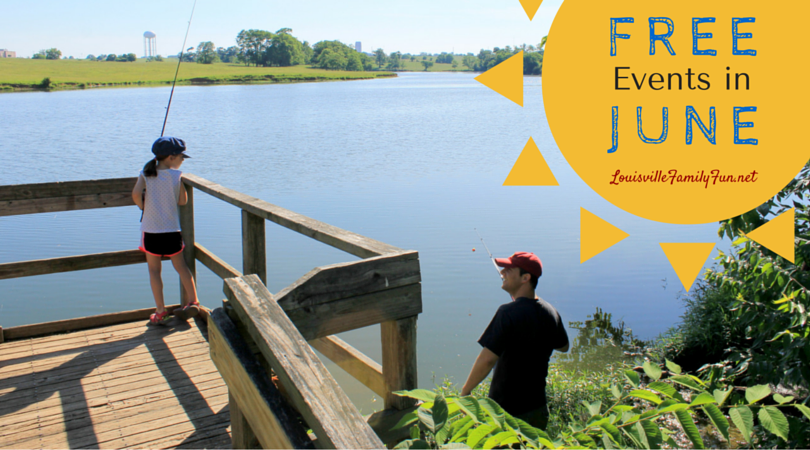 1. June 1-30: Get your
Cultural Pass
and get into dozens of places around town for free!
2. Friday, June 3: Free movie at
UofL: Star Wars: The Force Awakens
, 6:30pm.
3. Friday, June 3:
Clarksville Outdoor Movie Series Friday: The Good Dinosaur
begins at dusk.
4. Saturday, June 4:
Fishing Derby
for kids ages 1-15 at Wendell Moore Park, 9:00-11:00am.
5. Saturday, June 4:
Reading is Magical Celebration
at Louisville Free Public Library Main Library, 10am -12:30pm.
6. Saturday, June 11:
Mighty Kindness Earth Day Hoot
at Waterfront Park Brown Foreman Amphitheater, 12:00-7:00pm. Live local music, free workshops, fun for kids and youth, art and crafts, food trucks and displays from local and regional farms, community groups and green businesses, as well as a Spirit Walk.
7. Saturday, June 11:
American Printing House for the Blind Cinema Saturday
: The Miracle Worker, 1:00-3:00pm.
8. Wednesday, June 15:
Storytime at Brilliant Sky Toys
on Shelbyville Rd. Reading and activities for children, 10:30-11:30am.
9. Saturday, June 18:
Family Farm and Forage Day
at Farnsley-Moremen Landing. Horse-drawn wagon rides, farm animal petting zoo, 4-H fair, "Bessie" the Cow Milking Demos, musical entertainment, children's planting activities, Kentucky Proud recipe tastings, Kentucky State University mobile kitchen demos, and tours of the Farnsley-Moremen House, 10:00am - 4:00pm.
10. Friday, June 24: Free movie at
UofL: Zootopia
, 6:30pm.
For more FUN events in June, be sure to check the calendar above and download our mobile app.
By Guest Contributor:
Lauren