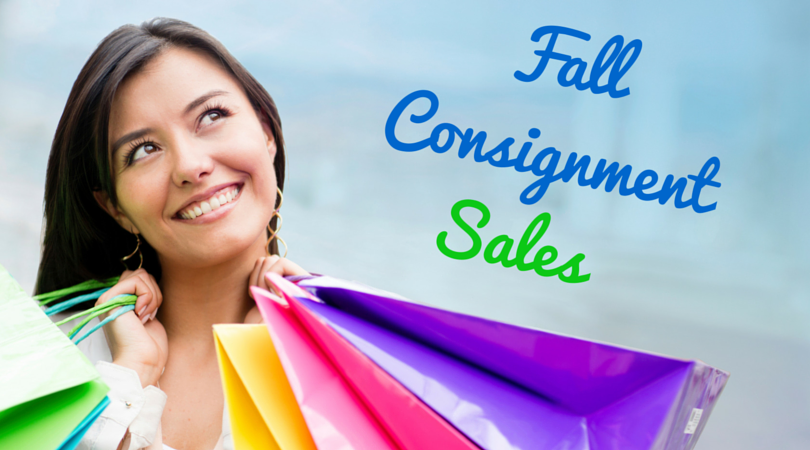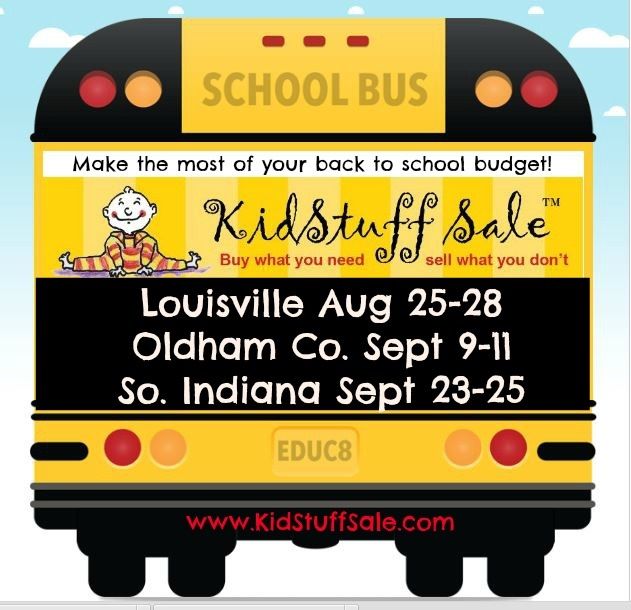 This is a partially sponsored post.
Hop on the bus to savings! Did you know that the average cost of raising a child born in 2013 through age 18 is approximately $250,000? Get some of that investment back by selling and shopping at Kentuckiana's longest-running consignment event, KidStuff Sale.
We set up and serve families at three different locations in the area: Louisville, Oldham County, and So. Indiana. Sell your gently-used items and make up to 85% of your sales. Buy needed clothing, shoes, toys, equipment, and furniture and save up to 90% off retail prices.
Don't have time to tag? Check out our TagForYou or BuyBack services. RSVP for our Facebook Events for contests, KidStuff gift card giveaway and early shopping passes, too!
Head over to
KidStuffSale.com
for more information.
Louisville August 25 – 28 Thursday and Friday 9am – 8pm, Saturday 9am-4pm 25% off*, Sunday 11am – 4pm 50% off* *many items discounted Location: Ramada Hotel Conference Center 9700 Bluegrass Parkway Louisville KY 40299
Oldham Co. Sept 9-11 Friday 5pm- 9pm, Saturday 9am-4pm, Sunday 11am – 4pm 50% off many items: Location: Oldham Co YMCA Indoor Soccer Complex 20 Quality Place Buckner, KY 40010
So. Indiana Sept 23-25 Friday 5pm- 9pm, Saturday 9am-4pm, Sunday 11am – 4pm 50% off many items Location: Southern Indiana Sport Center, 620 Park E Blvd. New Albany, IN 47150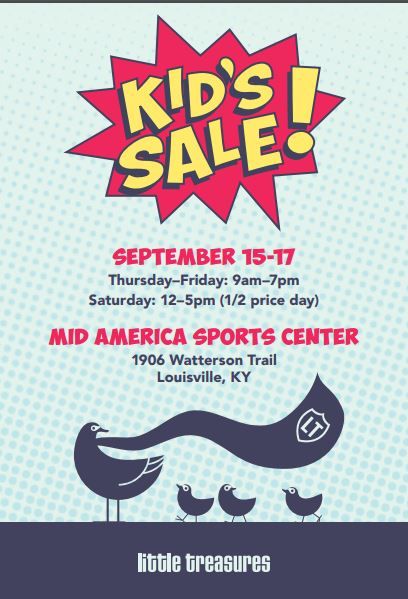 REASONS TO TRY
LITTLE TREASURES:
1. Set your own prices
2. One easy drop-off
3. We sell it for you
4. Shop early pre-sales
5. Support local kids in need
Learn more at littletsale.com!
#littletsale
Kentucky Kids Consignment Elizabethtown Sale features everything babies, kids, teens, and expecting moms need! We'll have toys, furniture, infant gear, toys, shoes, bedding, books, games, toys, women's handbags, sports equipment, toys, DVD's, accessories, and did we mention toys? With over 700 sellers and 80,000 items, there should be something for everyone! Sellers earn at least 70% of each item's selling price. Our Preferred Sellers are the first to shop at two exclusive presales.
Located less than 3 miles from exit 94 of I-65 in Pritchard Community Center, 404 S. Mulberry Street, Elizabethtown.
Find us on
Facebook
,
Twitter
, and
Instagram
and visit our
website
for more details
Open for shopping: Wednesday, October 19 from 7 pm to 9 pm for our VIP Presale - tickets $12.50 and VERY LIMITED! This is the only time there is an admission charge to shop!
Thursday, October 20 from 9 am to 8 pm Friday, October 21 from 9 am to 8 pm RESTOCKED with new inventory! Saturday, October 22 from 9 am to 4 pm with many remaining items half price
In order by date:
Kids 2 Kids/Louisville Mother of Twins Club Consignment Sale
Saturday August 20th. Open to public 8-1. Immanuel United Church of Christ, 2300 Taylorsville Road, Louisville, KY.
Kidstuff - Louisville
August 25 – August 28 Thursday: 9 – 8, Friday: 9 – 8, Saturday: 9 – 4 (25% off), Sunday: 11 – 4 (50% off) Ramada Conference Center, 9700 Bluegrass Pkwy. 40299
Little Treasure's Kid's Sale
September 15-17, 2016, Thur-Fri: 9 to 8, Sat: 12 to 5 (1/2 price day!) at Mid America Sports Center, 1906 Watterson Trail
CCUM Pass It On Kids Sale
Septermber 15-17. Friday 9 to 2 and 5:30 to 7:30. Saturday 9-12 (most items half price). Christ Church United Methodist, 4614 Brownsboro Road
Sweet Repeats Kids Consignment Sale
September 23-24. Friday 8-8, Saturday 8-3. Abraham Lincoln Post 167 (Legion Hall). 202 Downs Lane, Bardstown, Ky 40004
Kidstuff - Southern Indiana
September 23-25 Friday 5-9, Saturday 9-1, Sunday 12-4 (1/2 price off many items). Southern Indiana Sport Center, 620 Park East Blvd., New Albany, IN 47150
Lots 4 Tots Kids Consignment Sale
September 1-3. Thursday and Friday, 10-8, Saturday (most items half price this day): 9-7. Shelby County Fairgrounds in the Floral Hall building. 1513 Midland Trail, Shelbyville, Ky. 40065
Duck Duck Goose Consignment Sale
September 28-October 1. Open daily 8-8, Saturday half price sale. Clarksville Towne Center. 706 E Lewis and Clark Pkwy Clarksville, IN 47129
Saint John Kid's Kloset Consignment Sale
October 7-8. Friday, 9 - 7, Saturday, 9 - 1 (1/2 price day). Saint John United Methodist Church, 12700 W. Highway 42 Prospect, 40059
St. Paul United Methodist Church MOPS
, October 7-8. Friday, 9 - 1 and 5 - 7, Saturday, 8 - 2 (1/2 off most items) St. Paul United Methodist Church, Family Life Center Gym, 2nd floor, 2000 Douglass Blvd
Kentucky Kids Consignment Sale
October 20-22. Thursday and Friday, 9 - 8. Saturday, 9 - 4. Pritchard Community Center, 404 S. Mulberry St., Elizabethtown
Bullitt County Kids Sale
Dates and Times TBA. 395 Paroquet Springs Conference Centre Kidstuff Oldham County September 9 – September 11 YMCA Soccer Complex, 10 Quality Place, Buckner, KY 40010 Friday, 5-9, Saturday, 9-4, Sunday 11-4 (half price day)
Twinkle Twice Kids Sale
Dates and Times TBA. Bullitt County Fairgrounds 964 Clermont Rd. Sheperdsville, Ky, 40165
MUMC Kids Consignment Sale
Dates and Times TBA Old Shelbyville Road, Louisville, Ky 40243