My 9 year old asked for a typewriter for Christmas. It was all he could talk about. So after buying two broken typewriters, one on eBay and one at Goodwill, I decided I was going to have to get them fixed instead of trying to buy another one. I put out a call for typewriter repair on Facebook and found out a friend of mine started a program called "Fix It Friday" at
LVL1 Hackerspace
. I had been waiting for a reason to take my kids there and this was just what I needed.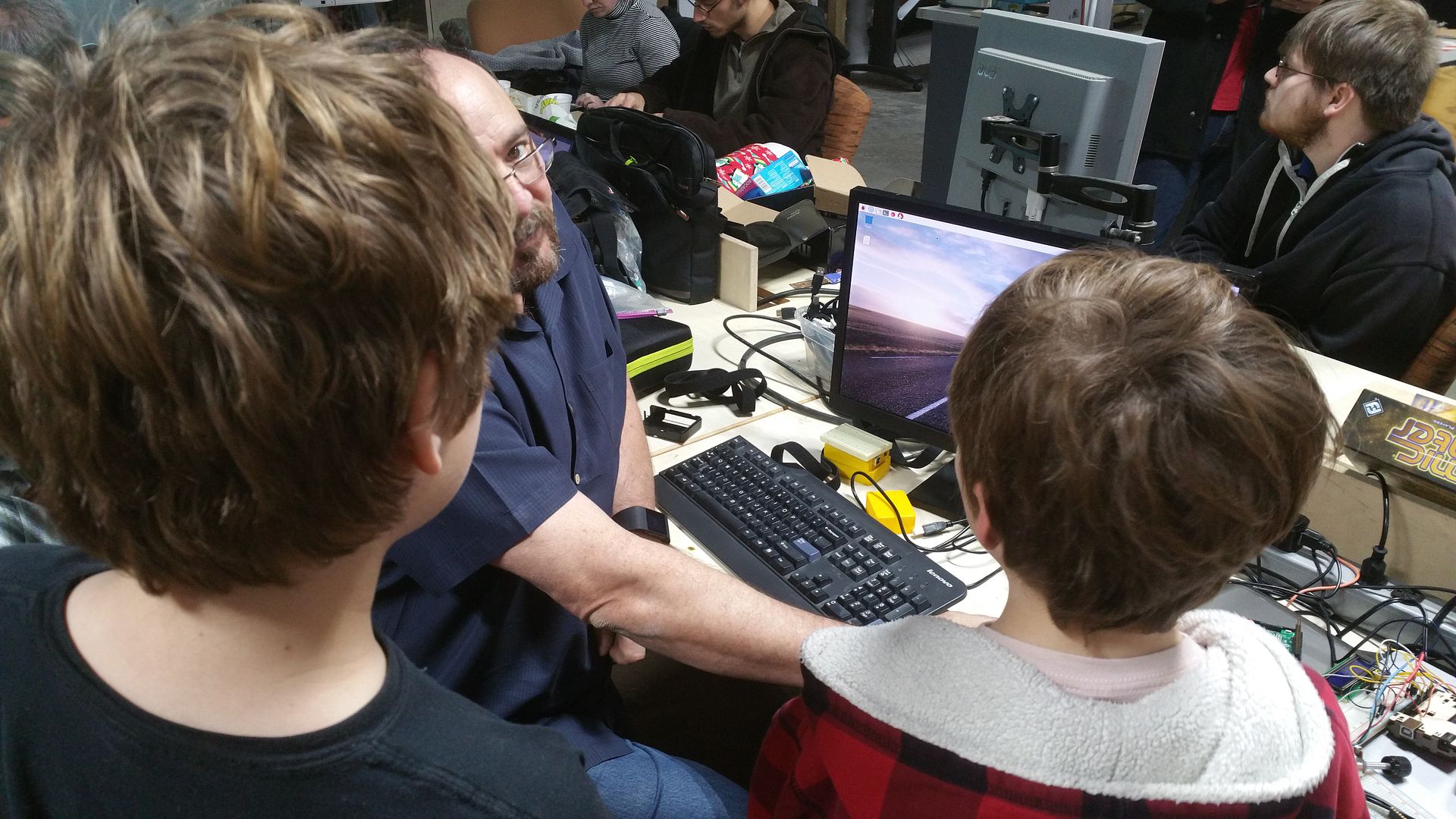 We went at about 8pm on a Friday night in January. It's a volunteer-run program and space, so you need to contact them ahead of time if you are planning a visit. Ben Hibben, the former Vice President and current member of LVL1, met us after work and got going on fixing our typewriters. My kids alternated between watching him work and walking around with his kids checking out all the equipment. Within about half an hour he had the first typewriter operational, and a few minutes after that he pronounced the other one dead on arrival. Because it is run on a volunteer basis, payment is donation based. I gave him $20- the best 20 bucks I've ever spent.
While we were there we talked to other folks who were working on other projects. One man was hooking up a Raspberry Pi system to LED lights, a project he was doing for his fish tank at home. My husband found someone who can fix the Ethernet port on his Playstation, which was recently fried. Another man was in the wood shop making chairs. The possibilities for finding cool stuff to do at LVL1 are endless.
The immediate next thing on our list is to learn how to solder. Hibben is the cofounder of a company called
Mr. Blinky Bling
, a Louisville company that makes custom LED wearables as well as LED soldering kits for teaching kids (and grownups) how to solder. There are soldering stations at the Hackerspace, so we are going to buy a couple of kits and have "
Mr. Ben
," as my kids call him, teach them how to solder. It is all my kids can talk about.
There are a number of classes coming up at LVL1 Hackerspace:
January 11 -
Vinyl Cutter: Customizing products like a cup/tumbler
$12 per person including materials (parents must be present)
January 14 -
Raspberry Pi: Getting Started Workshop
$20 per person, suggested you bring
Raspberry Pi Cana kit
but not totally necessary (parents must be present)
Click here
to find future events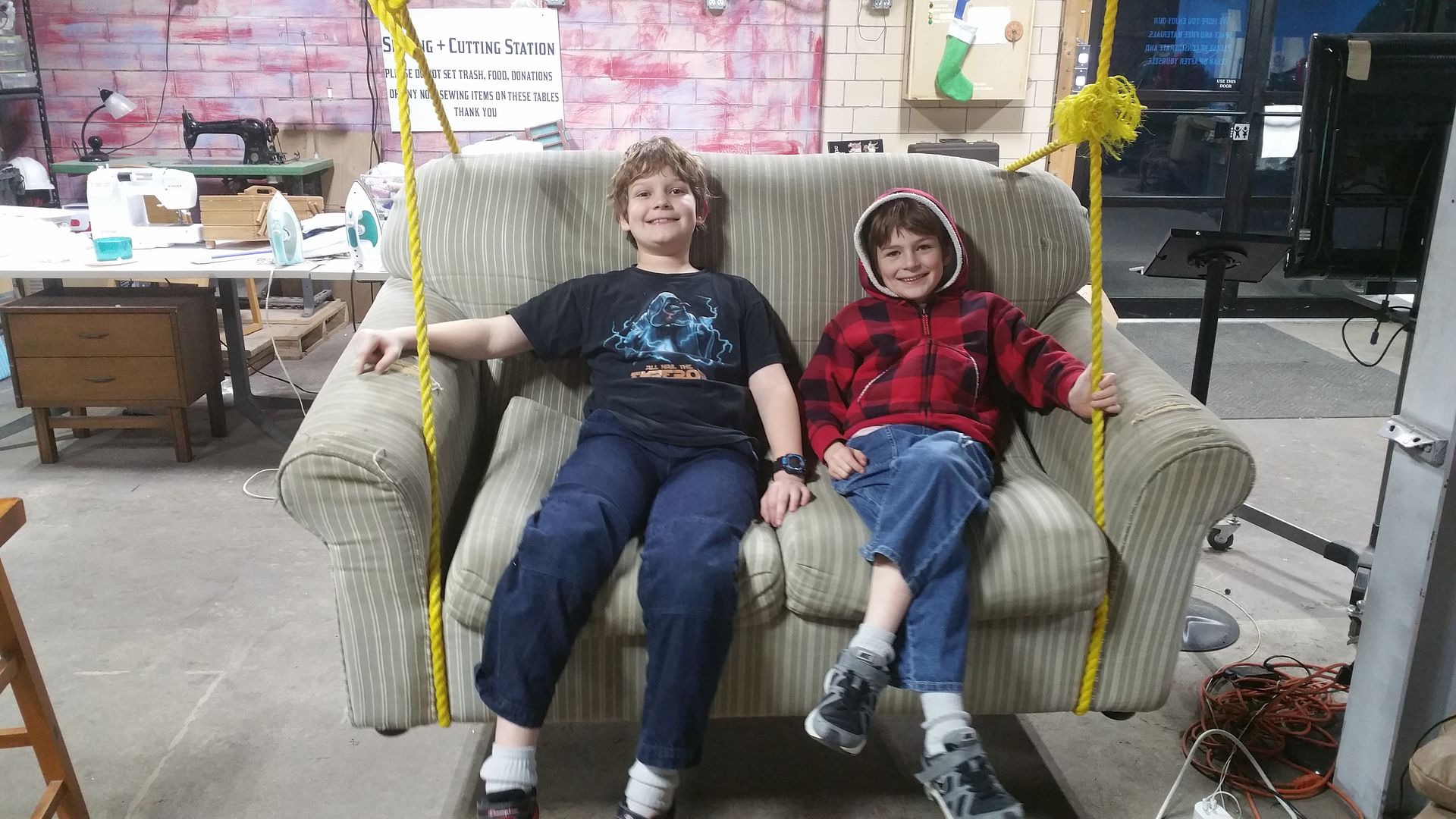 It's worth noting here this is an adult-oriented space. Adults need to be present with their kids, and if you plan something like a scouting class they would like close to a 1:1 ratio of adults to kids. There is a lot of delicate equipment like 3D printers and laser cutters. It is also not a "language sanitized" place, either visually or audibly. There was nothing going on that I felt was unsafe or unsavory for my kids, but if your kids are sensitive to adult language or topics, you might want to wait a few years. That said, Hibben says the youngest kid he's taught to solder was 4. If your kids are into anything technologically related, this is a great place to get hands-on experience. You can also talk to Hibben about bringing
Mr. Blinky Bling
kits to your school's STEM lab or your scouting troop- kits run around $15 each. Adults over 18 can
become members
for $50 per month, and membership would allow you to bring your kids in to use the space.
By Guest Contributor:
Maggie