Famnily Fun Day was a hug hit with over 4,000 people in attendance. Thank you readers for joining the fun and supporting Creasey Mahan Nature Preserve. Save the date - the third Sunday in July 2018 - and we will do it all again!
5th Annual FAMILY FUN DAY
A Community Playground Celebration!
Sunday, July 16
11:00 a.m. to 3:00 p.m.
FREE!
11:00 Door prizes - Parade crafts - Face painting
11:30 Parade to playground & ribbon-cutting
12:00 Zoo animals - Activity booths
1:00 Fire hose splashdown
2:00 Ice cream eating contest

(Change: We will have bouncing fun in terms of slides and obstacle courses but there was a problem in securing a water slide. Instead, we will have sprinkler fun in the grassy are for part of the day so kids and families can stay cool!)
Creasey Mahan Nature Preserve
and Louisville Family Fun invite you and your family to celebrate the NEW Forest Friends Playground at the Nature Preserve. It's only the beginning, but it's a great start!
Family Fun Day is an old-fashioned day of fun for the entire family, with activities for kids, face painting, crafts, and door prizes for the first 100 families.
Arrive at 11:00 to make streamers to carry in the parade to the playground at 11:30, led by the North Oldham High School marching band.
Other highlights are the fire hose splashdown with the North Oldham Fire Department and the ice cream eating contest by Valley Dairy Freeze. Bring a picnic or purchase a lunch from Papa John's Pizza.
Be ready to bid on many wonderful silent auction items, buy a brick, or just make a donation to help make the next phase of the playground come true.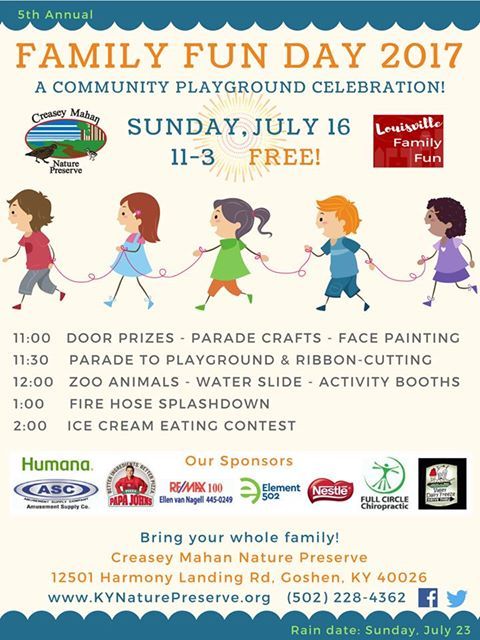 For more information, visit
www.KYNaturePreserve.org
or call (502) 228-4362. Call for booth information - all booths must provide a free children's activity.