Review of Local Speed Free Family Art Activities from The Speed Art Museum
As many of you are aware, the
Speed Art Museum
is closed for renovations until 2016.
That means no Rembrandt or Ancient Roman Antiquities, and most
importantly no Art Sparks. But there is
good news: the Speed has a number of satellite projects around town and
out in the state
to help us get our art fixes until the grand reopening.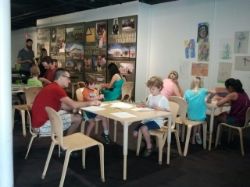 In addition to art exhibitions, the Speed is also
sponsoring lots of family-friendly activities around town. The Saturday morning Free Family Art
Activities are a great way to fill your family's arts and crafts quota. My family recently attended a screen-printing
workshop at the Local Speed facility in
NuLu
.
Upon our arrival we were greeted by the friendly and helpful volunteers
who explained the project we'd be doing. We sat around a table drawing
pictures, traced the pictures onto wax paper, and then cut out our
designs. Then we took our wax paper
cutouts, taped them to a screen, and waited in line for the screen printing
contraption.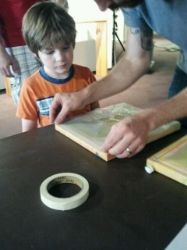 The line for the screen printing contraption was
pretty long, mainly because everyone finished cutting out their wax paper
designs at the same time. But there was
plenty to keep the kiddos occupied and everyone seemed happy to wait and
observe the process. I've used a
hand-cranked printing press before, but the screen-printing process was
completely new to me and therefore really cool to watch over and over.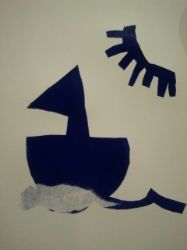 My youngest son was first in line, so once his print
was done he was content to wander around the small gallery and then sit back at
the table and draw. My oldest was in
line for a while, but he was perfectly content to watch the screen-printing
process while he waited. There are also
easels with paper, crayons, and colored chalk for any kids who aren't as interested
in waiting to be creative.
Free Family Art Activities will be held every
Saturday morning starting at 11 am at Local Speed. For more information, check out
changingspeed.org
. The activities will be different every week and will fall into a
rotating category of media including printing and mixed media. What better way to kick off the weekend than
a free art class followed by a visit to
Muth's Candies
and
WHY Lou Two
? I'll see you next weekend in
NuLu
.
By guest contributor: Maggie