Keep Eating Locally in Winter – Indoor/Winter Farmer's Markets, etc. in Louisville, KY
Keep Eating Locally in Winter. Here's how! (Remember to check your local farmer's market in your area, some of these have closed up shop till spring!)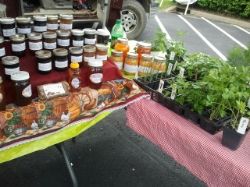 Many Farmer's Markets move indoors for the winter. They have fewer fruits and vegetables and
more meats, cheeses, eggs, and bread. Here's
a list of winter markets in the Louisville area:
Hikes Lane Farmer's Market at Wallitsch Garden Center
(Saturdays starting Jan 11, 10am-1pm)
Douglas Loop Farmer's Market
Bardstown Road Farmer's Market
Lyndon Farmer's Market
(thru Dec 19)
Louisville Winter Farmer's Market
Jeffersonville Winter Farmers Market
, Saturdays, 9:30-12, Nov-May
New Albany Farmer's Market
Jeffersontown Indoor Winter Market
at Jeffersontown Christian Church. They are open on select Saturdays 10am-1pm through April 2014.
There are several stores and distribution services for
local produce. Most CSA programs end in
November, but these places keep the local food market moving in the colder
months:
The Root Cellar
has stores in Germantown and Old Louisville.
Green Bean Delivery
has multiple regional farm-to-table delivery services including Louisville and
Southern Indiana.
New Roots
partners with local places around the city to bring fresh produce to the communities they serve.
Louisville Farm to Table
has some great information.
Get to know your local farmer by buying directly from the
farm. Here are a couple of the larger
farm stores:
Foxhollow Farm
offers a
wide variety of meats, eggs, and produce from the farm.
Huber's Market
offers seasonal produce and also has a bakery and ice cream shop.
Check out a Farm-To-Table restaurant. These places source as much as they can
locally:
Harvest
New Albanian Bank Street Brewhouse
Cake Flour
Taco Punk
Sway
Rye
Mayan Cafe
Ramsi's Cafe on the World
Cattleman's Roadhouse
The Exchange Pub & Kitchen
Eidertown
Volare
Anchorage Cafe
North End Cafe
Papalino's NY Pizzeria
By guest contributor: Maggie