Sister Beans Coffee House in Louisville, KY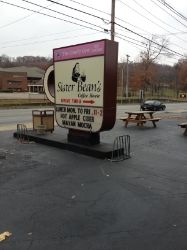 Recently my two boys and I enjoyed some sweet treats from Sister Beans Coffee House, a hidden gem in the South End of Louisville. They are a locally owned coffee shop and are located directly across the street from Iroquois Park Amphitheatre. They provide drive thru services, tables and couches, a meeting room, and tables outside when weather permits with plenty of parking available.
Sister Beans offers weekly specials such as Caramel Apple Latte (my favorite), Caramel Pecan Mocha, Raspberry Torte Latte, and a Milky Way Latte. Sister Beans offers lunches from 11-2 (including grilled Portobello, chicken avocado, chicken salad, or turkey clubs for $4.99) and pastries all day from Adrienne & Co (try the Glorious Morning Muffin, yum). They even offer a variety of ice creams from the Comfy Cow that includes Cookies and Cream, Vermont Maple Walnut, Chocolate Chip, Bourbon Ball, and Vanilla which are available in a cone or a cup. Kid sizes are available along with regular and large sizes. You can even take a pint or quart home with you! My boys love drinking their frozen hot chocolates (kid size costs $2.00) while playing in the kid section that offers toys, games, and coloring books. While they play I can spend some quiet time reading or working at the computer bar, where 2 computers are offered. Free Wi-Fi is available which makes Sister Beans a great place to finish up some work or gather for a meeting.
Along with coffee, Sister Beans also offers ice teas, hot teas, and iced coffees with prices ranging from $1.65 for a small fresh brewed coffee to $4.35 for a large Frozen Sister Bean Mocha. Become a regular and buy a Sister Beans 16 Oz. Mug ($7.50 + tax) and your first cup is free and refills are 10% off on regular priced drinks. Before you leave, make sure you browse the collection of crafts made by local artists that are for sale.
Winter Hours are Monday-Friday 6am-7pm, Saturday 7am-7pm, and Sunday 8am-6pm with later hours in the summer. Sister Beans is located at 5225 New Cut Rd Louisville, KY 40214 and on Facebook.
By guest contributor: Kelly