Where can you go for Pumpkin Patches, Corn Mazes, Hayrides and Fall Farm Fun around Louisville ?
Are you looking for pumpkin patches and picking, hay rides, corn mazes, and family fun at a farm this fall? All of the things you are looking for are right here in the Louisville metro area – all over Kentuckiana!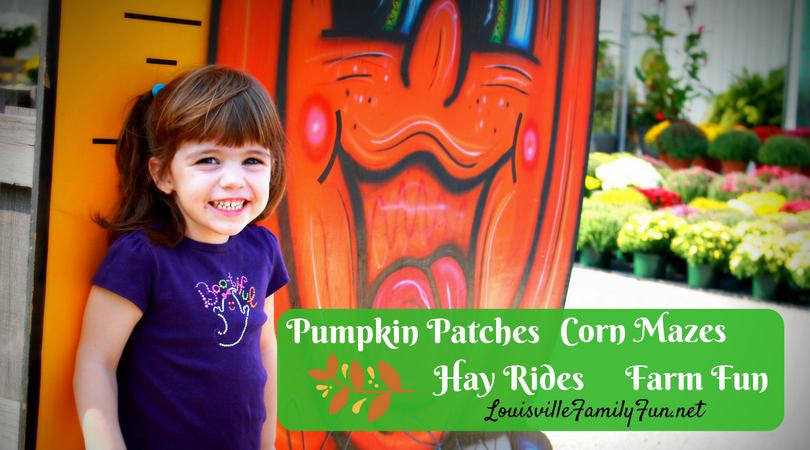 Here's a list of fall fun places! When you start searching for fall fun, let us be your hub for ideas for your family.
Fall is such a great time to spend your time outside. And, what better way to do it than with quintessential fall fun like heading to the local pumpkin patches? Of course, make sure to check their websites or call for hours and pricing – some are open all week, others just on weekends.
Thank you to our sponsor
Even better, many have things to do that are free. But don't forget, when you get there each place might have things that require additional fees. It's good to do some research before you go. Also, some of the more well-known farms have seen longer lines and crowds so planning to go on weekdays, if possible, is advised. If you want to go on a weekend, we recommend some of the 'lesser known' farms!
For 2021, things might be a bit different. We will do our best to keep you updates. We absolutely recommend you check with these places for the most current info before you go drive there!
Most recommended: Thomas Dairy Farm & Market in Cecilia, Kentucky – Pumpkin patches, market, play area, corn maze, night-time fun maze. This is a hidden gem, not too far of a drive. Lots of activities for a full day on a family farm! Even nighttime activities, totally fun for older kids.
Southern Indiana:
Joe Huber's – known for pumpkin picking and family activities. They also have a great restaurant. Opens 9/18 for pumpkin picking. They do not charge for rides out to the pumpkin patch or the Barnyard play area. They also have dates with live music scheduled.
Huber's Orchard and Winery – known for pumpkin picking and family activities. They also have u-pick apples. Homemade ice cream and a wonderful farm market. Wine/distilled spirits as well as a restaurant, we recommend the pizza and choosing a time when they have live music. Bring quarters to get food to feed the fish and ducks. They charge a fee for rides out to the pumpkin patch and for admission to the family play area/mazes. Update for 2021: We have confirmed with them that the fee for the u-pick wagon ride will be waived for fall 2021.
Farm Life – corn maze, pumpkin patch and more. Opens 9/18. They claim to have the largest corn maze in Southern Indiana. For 2021, they open 9/25 and close for the season on Halloween. They charge admission (kiddos 2 and under get in free).
The Pumpkin Shed – Sellersburg. Family-owned and operated farm. They have ice cream treats too! Pumpkins, gourds, straw for decorating and more.
---
Louisville
Sunny Acres Farm – great for field trips. They have an annual pumpkin festival – $5 admission, pumpkin patch, petting zoo, hayrides, and children's play area, craft vendors and food available.
Pendleton Farms Pumpkin Patch– Saturdays 9am-7pm, Monday – Friday 1pm-7pm, cash only. Click here to see a flyer. During October.
---
Oldham/ Shelby / Bullitt County and beyond
Evans Orchard – Located in Georgetown, makes for a nice day trip! Farm play area, pumpkin picking, market, corn maze and more. They also have u-pick apples. New mega slide and apple cannons!! Fees for "additional fall fun" basically you can go to the market, café, pumpkin patch, but everything else requires a fee. Free for kiddos 2 and under.
Foxhollow Farm – corn maze (sometimes, definitely check before you go) and pumpkins. They have moved more to a focus on their fall concerts.
Gallrein Farms – Fall fun starts 9/18. You do not pay admission but you pay for things you might want to do by getting a bracelet ($15). Or, if you just want to go to the pumpkin patch, you do have to pay $2 for the hay ride out there. There are some free activities, but most require bracelet. They have hayrides out to pumpkin patches, straw pyramid for fun climbing, farm store, haunted house, jumping pillow, petting zoo and more. They also have a farm store and cafe.
Historic Slow Poke Farm – Saturdays and Sundays in October, 12pm to 7pm. Pick your own pumpkins, hayrides, farm animals, bonfires and more. Admission fee, cash only.
Mulberry Orchard – Hayrides, pumpkin patch, kids play area, corn maze and more. Now open. Tuesday-Saturday 9-6 & Sunday 1-5. You don't pay admission unless you want access to the play area. $30 farm fun pass for the play area (good for an entire family for all season). They also have apple picking starting 9/18.
Jericho Farmhouse – Just outside of La Grange in Smithfield KY. On the weekends: they have a mini-corn maze, wagon rides to the pumpkin patch noon-6pm, and a store that's open Thursday-Sunday, noon-9pm! They have delicious homemade ice cream. You can check their Facebook page for announcements because some weekends they may have a food truck.
Click here for the Oldham list.
---
If you are looking to make a day trip out to exploring for fall fun, here are some ideas that might be just a little bit further away but do make for a perfect day trip. Many of these places have so much to do, you can spend your entire day there. When you visit these places, share some photos with us on Facebook or twitter so we can see how much fun you had!
Beyond
Thomas Dairy Farm & Market – Pumpkin patches, market, play area, corn maze, night-time fun maze. They have magic shows which are so much fun, and tons of space for kids to run and play. Opens 9/18 and runs through 11/6. MONDAY-SATURDAY 10 AM-6PM UNTIL OCOTBER 1ST, SUNDAYS11 AM-6PM. They only have concessions on the weekends. Admission is free for kids ages 3 & under, otherwise you should get tickets in advance online. You can choose your admission level based on what you want to do!
Boyd Orchards – farm store, corn mazes, pumpkin patches, hayrides and family fun area
Bray Orchards – market and pumpkins
Hinton's Orchard – Elizabethtown, pumpkins, corn maze, farm market and more. Free for kids ages 2 & under, general admission fee for other visitors. You can purchase in advance.
Happy Jack's Pumpkin Farm – Frankfort, corn mazes, hay rides, pumpkin picking. Monday-Saturday 9:00 am- 6:00 pm and Sundays 11:00 am-6:00 pm. Tractor rides to the patch run all day Saturday and Sunday! Admission is free.
Roberts Family Farm – Guston, KY. Pumpkin Patch, Hayrides, Corn maze, Bakery and more. 1:00-7:30pm Monday-Sunday. September 15-October 31.
Wilmoth Farms – Cecilia, KY. Friday -Saturday 10am – 9pm, Sunday-Thursday 10am – 7pm. List of activities here. Free admission.
Crawford Farms – Elizabethtown, KY. Sep 25 – Oct 10: Mon – Sat: 10 am – 8 pm,
​Sunday: Noon – 8 pm; Oct 11 – Oct 31: Mon – Sat: 10 am – 7 pm, ​Sunday: Noon – 7 pm. Hayrides, pumpkin patch, animals, corn mazes. Admission fee and fees for activities.
Morgan's Run – Click for review – hayride, corn maze, pumpkins, play! (no longer open)
If you are ready for fall, take a day trip for pumpkin picking and corn mazes for getting lost in fall fun. Happy Fall!
Click here for more fall fun ideas!