Best Playgrounds around Louisville
What are the best playgrounds in Louisville?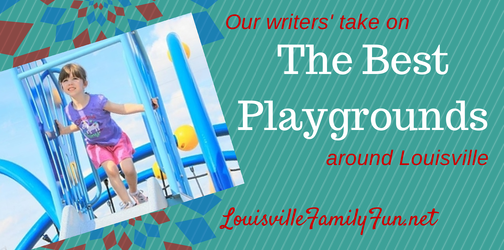 We asked out writers about which playground in Louisville they like best and why!
The Best Playgrounds in Louisville
There are so many great playgrounds nearby but what are the best playgrounds in Louisville? You can spend all year visiting different ones. Here are some ideas for the best playground near you!
Caryn: We like Waterfront Park with the Ohio River fishing/walking, Big 4 Bridge, and restaurants across the river for lunch/dinner to make a day of it! The playground on the Jeffersonville side is also really nice and never crowded!
Lauren: Hounz Lane Park. It's smaller so it isn't so crowded, but with plenty to do. There's also a creek to explore and great picnic places or room to play games on the fields!
Stephanie: Iroquois is great because the playground is big but also has a smaller contained kids area and it's near the spray ground and hiking trails. Sometimes the bathrooms are not very clean so plan ahead!
Also, like so many people, we love the Parklands Playgrounds – there are several to choose from so you can try something new each time you are looking for the best playgrounds in Louisville. Plus, you can combine your visit with a hike, creek walk, fishing, or a picnic. We never have a dull moment at the Parklands and we enjoy it all year round.
Maples Park in Crestwood is very new and really nice. The play structure is unique and there are slides that are built into the hill that kids enjoy. They have a grassy area if you want to spread out and bring a picnic or walk around.
Maggie: Robsion Park in Lyndon is one of the best playgrounds in Louisville, it has a really great walking trail (for little ones learning to ride bikes too.) Their playgrounds are great, but be sure to wear sunscreen since there's not a lot of shade. And, there is a sprayground that's relatively new.
Maggie take 2 – she can't make up her mind: I might want to change my answer. We like Wendell Moore Park because there's a great Lake for fishing, picnic sheds, and a nice playground.
Erin: For playground only purposes, our fave right now is the Don Fightmaster Playground that's by UofL. It's huge, lots of great ramps to explore (making it very accessible for disabled/handicap children), and enclosed with a fence so my active toddler can't escape! Hard to park, but if you eat at McD's right next door you can park in their parking lot.
Brandy: We recently discovered Briar Hill Park. There is a playground, sand volleyball, paved walking path and some hiking trails we've yet to explore. Also, real restrooms. We'll definitely visit again soon.
More great playgrounds!
I'm going to say Douglass Hills park. Play equipment is great for my aged kids, walking loop is right there, great for picnics. Yep. Love it.
Creasey Mahan Nature Preserve – Harmony playground and their new large playground. It's has a playground, gardens and trails. The kids love it! Pack a picnic and explore. They have a pond with frogs and turtles too.
Riverview Park in south Louisville. Great sprayground, lots of neat playground equipment for various ages, and a great view of the Ohio river!
Crescent Hill by Mary T Meagher Aquatic Center – it is TINY, but has both a play structure and a splash area. We have never been when it is crowded. The aquatic center is right there so you have access to bathroom. It's also great because you can walk to the Crescent Hill Reservoir and take a lap around. It's interesting there are great views.
Kevin Hammersmith Memorial Playground in New Albany – This is a new inclusive playground in Floyd County we checked out in 2022. We have more info about it on our post. It's a wonderful new addition and worth the drive. You can play and then cool down at the sprayground in the summer months.
Looking for more outdoor fun, click here. There's so much to do in Louisville for family fun.